Thin skin? French police union says 'pee on a cop' children's song is an incitement to terrorism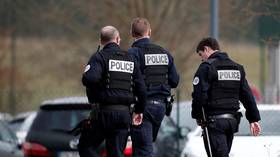 A French police union has been widely mocked online after protesting the teaching of a satirical song about skipping school. The song, which includes a line about urinating on a policeman, promotes violence, the group has argued.
Outraged over the contents of a children's song, "To miss school," the union of "angry police" announced on Facebook last week that it had filed a criminal complaint against the director of a primary school in Ludres, near the northeastern city of Nancy.
The small, conservative police union said that the school's administrator was guilty of "incitement to terrorism, provocation of a minor to commit a crime or a crime and defamation."
Written by singer-songwriter Guillaume Aldebert, "To miss school" tells the story of a child strategizing about how to skip out on classes. The child considers all possibilities, including "walking around the house in pajamas to catch a cold,""swallowing two slugs" as well as "peeing on a policeman,""taking my little sister hostage," and "blowing up the school with dynamite."
The hot-headed union also vowed to file a complaint against Education Minister Jean-Michel Blanquer, "for complicity if the latter does not immediately stop these offenses."
Their protests were not particularly well received on social media, however, with many people mocking the union's thin skin.
Also on rt.com
Blue vests feeling yellow: 'Exhausted & overworked' French police unions ready for action
"Just ridiculous!!! Complaining about a song?" one exasperated Facebook user wrote.
"My daughter is in this school and learned this song and I don't find any of it scandalous," one local parent commented. "I like this singer's lyrics, they are no worse than the ones we hear in loop on the radio! Is there nothing more serious to complain about in the world?"
"Maybe we could start by understanding that it's humor!!!!!!!!!!!!!!!!!!!!!!!!!!!!!!!!" exclaimed another Facebook comment. "All my support to this high quality teacher team and to the impeccable director."
Like this story? Share it with a friend!
You can share this story on social media: