Maduro places troops on high alert, accuses US of rehearsing new form of warfare in Venezuela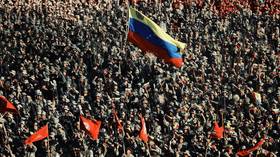 Venezuela's military has been placed on alert to pre-empt potential 'unconventional' warfare tactics by the US, which aims to overthrow the government with attacks on public services, President Nicolas Maduro has announced.
"Venezuela is demonstrating to the world that it is a testing ground for new cybernetic, electromagnetic war weapons and a new war strategy, which is not the direct invasion or bombing by missiles, but the bombing of vital public services," Maduro said, admitting that, with rolling blackouts, the situation in the country remains "serious."
Also on rt.com
Maduro announces 30-day power rationing as Venezuela is gripped by blackouts
The objective of this alleged tactic is to destabilize the situation in Venezuela just about enough to provoke internal clashes, the president said. He accused the opposition of engaging in "criminal plans" to take advantage of such a scenario of chaos to assassinate him and other loyal supporters. Maduro also said there are plans by dissidents to "attack military units."
He ordenado la conformación de 50 mil Unidades Populares de Defensa en todos los barrios, ciudades y en cada rincón del País para que respalden y fortalezcan la Defensa Integral de la Patria. ¡Unidad Cívico-Militar! pic.twitter.com/eHOKk2n9LV

— Nicolás Maduro (@NicolasMaduro) January 30, 2019
To confront these dangers, Maduro said he had placed the intelligence and counterintelligence bodies on highest alert. Similarly, the president called on the mobilized 51,000 popular defense units, comprising some 2.1 million volunteers, to help the military deal with potential threats.
Also on rt.com
'Venezuela won't become 2nd Syria': Lavrov sure S. America won't back military invasion v. Maduro
Think your friends would be interested? Share this story!
You can share this story on social media: