Indians in America are 'backward': Porn star turned Bollywood actress bares all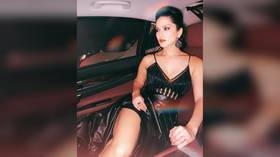 It's been a long and winding road from the American porn industry to the glitter and fame of Bollywood, and actress Sunny Leone says she's found more acceptance in conservative India than among Indians in the US.
Born in Canada to Indian parents, Leone first tasted fame in the American porn industry in 2001. Her jaw-dropping figure and winning personality kept her in demand for ten years, landed her cover appearances in Penthouse and Hustler magazines, and gave her the opportunity to market her own range of lingerie and sex toys.
Throughout her career in the adult industry, Leone dabbled in mainstream television, and eventually dropped porn for good in 2011. Moving to India to pursue a career in Bollywood, she said she "knew nothing about young India," and expected a less than warm reception.
What she found shocked her. "The Indians in America are completely different than the Indians here, they live in a bubble there, they have tied themselves to backward India, while India has moved forward but they are still somewhere back so many years," she told Indiatimes.
"Because they are in such a foreign land, they are trying to hold on [to] the ideologies or cultural values, their religion, they are trying to hold on whatever they can, so they don't lose it," she continued. "I had gone through so many hate mails, so much negativity from the Indian community there at a very young age."
Leone's experience of the Indian community in America is not an unusual one. Oftentimes, immigrant communities cling to what they consider the traditional values of their homelands, even as these homelands modernise and move on. Irish immigrants to the US in the 19th century are said to have become "more Irish than the Irish themselves," while Italian-Americans formed fraternal clubs and political organizations to preserve their heritage.
An immigrant to India, Leone said she found acceptance once locals realized she wasn't going anywhere. "I think I was in people's face all the time through work, social media or different entertainment platforms, so that progression will naturally happen," she said.
Leone's latest project is a biopic about her life called 'Karenjit Kaur: The Untold Story of Sunny Leone,' which reaches its season finale on Friday on the ZEE5 platform.
Aside from television work, motherhood now consumes much of Leone's time. The actress and her husband, Daniel Weber, adopted a baby girl in 2017, and had twin boys a year later.
"I think it's the most amazing part of my life, it's very fulfilling, Nisha is such an angel, so beautiful, just her entering and giving me a hug and kiss is the world's best feeling, that itself makes my day, I just become naturally happy when I see her and my boys," she said.
Like this story? Share it with a friend!
You can share this story on social media: