Orban to Juncker: Unveiling statue of Marx gives you no right to lecture others on xenophobia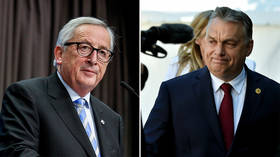 Viktor Orban has hit back at claims made by Jean-Claude Juncker that he is racist, quipping that the European Commission head's appearance at a ceremony celebrating Karl Marx gave him no right to lecture others about xenophobia.
The Hungarian prime minister was responding to comments made by Juncker to Italian television on Sunday over the ongoing feud between the pair. Juncker said that while he didn't care about being placed on billboards critical of the EU by Orban's Fidesz party ahead of EU elections in May, he was bothered by Orban's xenophobia and hostility towards foreigners. The EC president added that Orban's particular brand of nationalism and disregard for others leads to war.
Hitting back at the claims, Orban told local media: "Someone who unveiled a statue of Marx shouldn't be lecturing anyone about xenophobia," adding that the "master of xenophobia" was none other than Karl Marx.
His reference to Marx refers to the series of exhibitions dedicated to the German philosopher for his 200th birthday in 2018 in Marx's hometown of Trier. The celebrations were opened by Juncker, which included the unveiling of a huge bronze statue of Marx donated by China.
Orban didn't expand further on his xenophobic remarks but he may have been referring to Marx's thoughts on Irish immigration to England. In his 1870 discussion on the 'Irish Question,' Marx wrote that Ireland "constantly sends her own surplus to the English labor market," which forces down wages and lowers the position of the English working class.
The right-wing Fidesz party has been increasingly at odds with senior EU officials, after it erected a series of billboards at home that implied the European Commission and Juncker are influenced by billionaire George Soros and his pro-immigration policies.
Also on rt.com
Orban's party suspended from European parliament bloc over ongoing feud with Brussels
The confrontation resulted in allies from the center-right 'European People's Party' bloc (EPP), demanding that Fidesz halt its "fake news" campaign against Juncker, suspending the party from the group until it met its demands.
Orban later hit back at "Brussels bureaucrats" who had lost "touch with reality." He insisted Fidesz would continue to fight 'dictations' from Brussels and urged voters to back his party in May's election to show the EU that what is "happening in Hungary is what Hungarians want."
Think your friends would be interested? Share this story!