'PR disaster': NASA ditches historic all-female spacewalk after spacesuits won't fit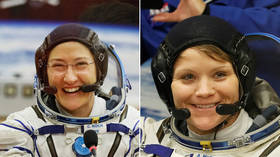 People on social networks are struggling to understand how NASA prepares for its missions after the space agency announced that its historic all-woman spacewalk will be canceled due to problems with spacesuit sizes.
Astronauts Anne McClain and Christina Koch were about to make history as the first all-female crew to walk outside the International Space Station on March 29, but NASA suddenly changed its plans. In a press release on Monday, the agency said it had to adjust assignments "in part" due to "spacesuit availability" problems.
McClain learned during her first spacewalk that a medium-size hard upper torso – essentially the shirt of the spacesuit – fits her best. Because only one medium-size torso could be made ready by Friday, March 29, Koch will wear it.
Anne McClain, who successfully performed her first spacewalk on March 22 with Nick Hague, is now "tentatively scheduled" for April 8 alongside Canadian Space Agency astronaut David Saint-Jacques, NASA said.
Many people on social media were perplexed to hear that there's a shortage of spacesuits on the ISS. One person on Twitter blamed NASA's 'poor planning,' assuming that that sizing issues must have been "100% known" in advance.
Many people found it weird that NASA did not prepare enough spacesuit options for the much-touted spacewalk. "Women astronauts need women-sized gear. This is still an issue in 2018?" someone wondered, while another user advised NASA to "get a better tailor."
Someone even dubbed the incident a "PR disaster," while another user ironically called NASA's flunk "one giant step back for women."
NASA was also criticized for playing with gender issues instead of focusing on science. "Why is it so important to have an all-female spacewalk? Shouldn't it be the most qualified humans?" one tweet read.
McClain has been on the ISS since December 2018, while Koch joined in March 2019. Both astronauts are part of the Expedition 59 commanded by Roscosmos cosmonaut Alexey Ovchinin.
If you like this story, share it with a friend!
You can share this story on social media: