Clashes erupt in Indian-controlled Kashmir after grenade injures three security troops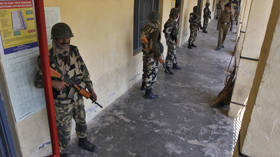 A grenade attack has injured three Indian police troops in Kashmir, including an officer. A riot reportedly erupted following the explosion.
The incident happened on Thursday morning in the town of Sopore in the western part of the Indian-administrated section of the disputed region. "Militants" fired from an under-barrel grenade launcher at a group of security personnel, the police said.
The grenade injured three people, including an officer from the police station in Dangiwacha, a small town in the same Baramulla district.
"Security forces have cordoned off the area and a search has been launched to nab the attackers," a police official said.
Also on rt.com
Indian Air Force seeks 'fresh replenishments' of missiles to counter Pakistan's F-16s – report
Following the attack clashes reportedly erupted between Indian police and people from the Muslim-majority community. The protesters pelted the police with stones as the security troops deployed tear gas to disperse them.
The incident happened days after the controversial death of a man in Indian police custody in the nearby Pulwama district. Rizwan Asad Pandit, a private-school teacher, had been arrested as part of a "terror case investigation," His death sparked outrage and rioting on Tuesday, to which police responded with tear gas.
Kashmir has been disputed by India and its neighbor Pakistan since the partition of former British colony in the wake of World War II. The two nations fought three major wars over their differences and have since acquired nuclear weapons. The disputed area is largely divided into Pakistani and Indian-administrated parts, and is home to a long-time Muslim insurgency, which seeks independence from India and possible reunion with Pakistan.
Earlier this month there was a major flare-up between New Delhi and Islamabad after an Indian air raid into Pakistani territory, which targeted a militant group that claimed responsibility for a deadly bombing attack on Indian security troops. Pakistan responded with a bombing sortie of its own, which escalated into a dogfight over Kashmir unseen since the 1970s.
Subscribe to RT newsletter to get stories the mainstream media won't tell you.