Not fireman, it's firefighter! Fire Brigade mocked after accusing Peppa Pig of 'sexism'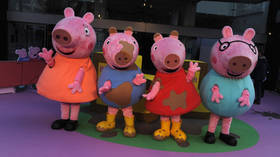 Peppa Pig has become embroiled in a war of words on social media after the children's TV show was slammed by London Fire Brigade, claiming it prevents girls from joining the fire service due to its use of 'sexist' language.
The row over the world-famous children's character, which has included TV presenter Piers Morgan piling in on Twitter to blast "Why don't you go and put out fires?" was initiated by a Peppa Pig episode titled: "The Fire Engine."
It starts with the narrator saying: "Mummy Pig is dressed as a fireman." Those chilling words were enough to irk the London Fire Brigade's (LFB) official Twitter account. They insisted that "using out of date stereotypical gender-specific wording" harms attempts to recruit female "firefighters."
The intervention prompted much indignation on social media with many mocking the LFB for raising, what they see as, such trivial matters.
One joked that the LFB must never have watched the program properly, as "Ms Rabbit does nearly everything in the show, shop owner, helicopter pilot, rescue, you name it! Give her a break, let someone handle the fire duties."
The debate took an even nastier turn, if that were possible, as it then widened to the merits or otherwise of another children's TV favorite, Fireman Sam. Senior Fire Officer Alex Johnson from the South Yorkshire Fire and Rescue claimed that "Children's shows like Fireman Sam don't help to break down stereotypes."
In a Twitter rant, TV host Piers Morgan, the former editor of the Daily Mirror, claimed that if any females were being put off because of supposedly reinforced male stereotypes, then "these women probably don't have what it takes to fight fires."
While Morgan received backing for his views, firefighters were quick to defend their colleagues, arguing that the TV host's opinion on what's good for the fire service is like him telling a professional footballer about football.
Think your friends would be interested? Share this story!
Subscribe to RT newsletter to get stories the mainstream media won't tell you.