Aussie Senator gets EGGED after comments blaming Muslims for NZ mosque shooting (VIDEO)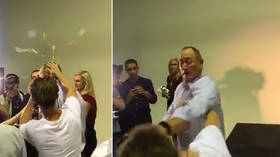 A teenage protester has egged the Australian senator under fire for his recent statement lashing out at Muslim immigration as a reason behind Friday's mass shooting in New Zealand.
Queensland Senator Fraser Anning made the controversial statement after 49 people were killed and more than 40 injured at two Christchurch mosques on Friday. Stating that he was opposed to "any form of violence," Anning claimed that the atrocity highlighted the "growing fear over an increasing Muslim presence," in both New Zealand and Australia. The comment prompted an avalanche of criticism.
Also on rt.com
Aussie politician claims Muslims are responsible for New Zealand shootings
At his Saturday press conference in Melbourne, a young protester attacked him with an egg.
Footage of the incident shows the teen standing quietly beside the politician. He then pulls up his cellphone before slapping the egg on the back of Anning's head. The senator then turns to the young man before swinging two punches at his face. The teen is then tackled to the ground and held in a headlock while Anning is led away. People can be heard saying "pick him up and get him out," and "get the cops."
The teenager was arrested by police but has since been released without charge.
Since the incident, support for the boy has flooded in on social media, with many hailing him a "hero" and calling for him to be given awards and medals for his actions.
Others questioned why it was just the boy who was arrested by police, highlighting Anning immediately punching the teen and the way he was handled by Anning's supporters after the incident.
"Funny, it was only yesterday Fraser Anning said he against all forms of violence. What a difference an egg makes," one Twitter user wrote.
Think your friends would be interested? Share this story!
You can share this story on social media: