Russia will immediately respond if US missiles are moved to Europe – Putin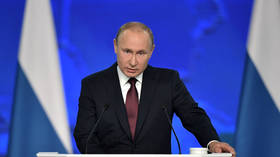 Russia will immediately put into effect its response plans if the US deploys missiles in Europe, Russian President Vladimir Putin said as he addressed the Federal Assembly in Moscow.
Putin said that Russia is not going to be the first to deploy such missiles in Europe and will only act if there's a threat against it, stressing that the response will depend on the threat Moscow faces.
If they [the missiles] are manufactured and brought to the European continent, and the US has such plans, at least we haven't heard anything to the contrary, it will sharply aggravate the world's security situation and will seriously threaten Russia.
Putin stressed that some missiles of this kind may reach Moscow in less than 10-12 minutes and in case such weapons get to Europe, Russia will have to take tit-for-tat as well as asymmetrical measures.
Also on rt.com
Putin's annual address to Russia's Federal Assembly as it happened
In early February, Moscow announced that it halted its participation in the Intermediate-Range Nuclear Forces (INF) Treaty after the US pulled out from the arms control pact. Both Moscow and Washington have accused each other of violating the terms of the agreement.
The INF treaty was signed by the US and USSR in 1987, and had been a key pillar of European security since.
Also on rt.com
Washington plays Russian roulette with European lives by trashing INF Treaty
If you like this story, share it with a friend!