Up to 12 people buried in Swiss avalanche – reports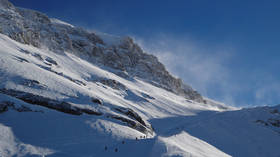 Valais police confirmed that several people were buried in an avalanche at a ski station in the Swiss Alps. Local reports claim as many as 12 may be trapped in the snow.
Police in the Canton of Valais said there was an avalanche on the Plaine-Morte ski track in the Crans-Montana municipality at about 2:15pm local time on Tuesday, and several people are still buried beneath the snow.
#AvalancheCransMontana - 14h15 - une avalanche s'est produite sur le secteur de la Plaine-Morte - Secours sur place - Plusieurs personnes ensevelies. Informations suivront. Police cantonale VS.

— Police Valais (@PoliceValais) February 19, 2019
Local reports claim between 10 and 12 people are trapped in the snow, citing the mayor of Crans-Montana, Nicolas Feraud.
"We are shocked and hope for a positive outcome for these people," Feraud said.

Rescue and recovery teams are on the scene. Valais police tweeted that more information will be provided as the situation develops.
Four injured people have been rescued from the avalanche, police have said. As more people might have been trapped under the snow, the search goes on.
"Rescuers arrived very quickly, they rescued four injured people, including one whose life is in danger, and three were injured more superficially," Valais cantonal police commander Christian Varone said at a news conference. "Witnesses told us there could be more people under the snow, that is why we are pursuing the search with considerable means."
Warmer weather over the past week meant snow was starting to melt in the region. Video footage from the scene shows skiers standing by helplessly, gazing at the avalanche aftermath. A photo from the scene appears to show skiers looking for those who were buried.
Aerial photos from the scene posted to Facebook show the extent of the avalanche.
Subscribe to RT newsletter to get stories the mainstream media won't tell you.
You can share this story on social media: