Internet hasn't heart to tell Chinese media that tourists in 'funny animal hats' are really FURRIES
Published time: 15 Feb, 2019 16:20
Edited time: 16 Feb, 2019 10:52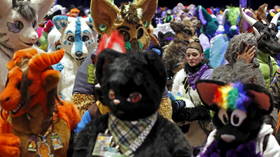 Twitter has decided that the People's Daily (the Chinese Communist Party's main public news source) is too pure for the internet after the paper assumed visitors in fetishistic animal outfits were simply wearing them to keep warm.
The Communist Party's largest news organ posted a photo of some "tourists in funny animal-like hats" walking the streets of the Northeast China's Heilongjiang province with a caption explaining that the visitors had simply donned the full-body fur-suits "to withstand the cold."
The paper's Western social media audience, however, couldn't help but see the fur-clad foreigners as members of the world-wide "furry" community, in which hundreds of thousands of people around the world celebrate anthropomorphic cartoon animals… often in R-rated ways. While not exclusively linked to sexual-fetishism, the connection in the public mind is fairly immediate.
The leash that one of the costumed figures is using to lead the other by the neck, for instance, is a lot more erotically suggestive than it is preventative of frostbite.
Most people, however, couldn't bring themselves to spoil the paper's more innocent interpretation of their guests' motivations.
While it is easy to pass judgement on adults who spend their free time walking around (at a minimum) in eye-catching cartoon animal costumes, one person offered a suggestion that their motivations may have actually been to NOT attract attention.
Although certainly not comparable to the unusual hobby's popularity in the West, the "furry" community's growing popularity in China may soon have reporters making the same associations as their audience. China hosted its first full-on furry convention in 2015, and has had one every year since. With the country still riding the fence on non-traditional forms of sexual expression, it remains to be seen what the future holds in its paws for the animal-human hybrid enthusiasts.
Like this story? Share it with a friend!