US is openly pushing Venezuela's army into a coup - Russian FM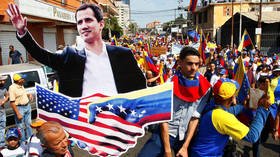 Forced regime change has apparently become Washington's priority as the US heaps pressure on Venezuela's military, Russian Foreign Ministry spokeswoman Maria Zakharova said.
The possible decision of the US to seize Venezuela's economic infrastructure could become the "steal of the century," Zakharova also stated during a briefing on Thursday.
In late January, the US froze $7 billion of assets belonging to the Venezuelan state-run oil company PDVSA and its US subsidiary Citgo. Russian Foreign Minister Sergey Lavrov called the US sanctions "cynical," asserting that Washington's actions are in fact a confiscation of Venezuela's state property.
Also on rt.com
'Cynical' US sanctions meant to confiscate Venezuela's assets – Lavrov
Last week, Venezuela's opposition leader Juan Guaido did not rule out the possibility of "authorizing" US intervention to oust elected President Nicolas Maduro, while President Donald Trump later confirmed that this was "an option."
Like this story? Share it with a friend!
You can share this story on social media: