'Open white supremacist' Trump & 'KKK extremists in White House' attack Venezuela – Maduro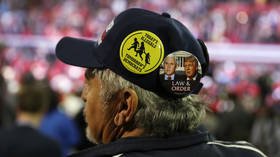 There is a racist dimension to Washington's ongoing campaign in Venezuela, since the US is currently led by an openly white supremacist president and similarly minded extremists, said the country's embattled leader.
"It's a political war, of the United States empire, of the interests of the extreme right that today is governing, of the Ku Klux Klan, that rules the White House, to take over Venezuela," President Nicolas Maduro told the BBC's Orla Guerin.
The US government is the apparent driving force behind Venezuelan Parliament Speaker Juan Guaido, who last month declared himself acting president and its incumbent head of state usurper. Washington rushed to recognize Guaido as the rightful leader of the Latin American country and hand over control of Venezuelan assets seized in the US.
The unceremonious approach to the regime change attempt is indicative of how Venezuelans are perceived in Washington, Maduro said.
They hate us, they belittle us, because they only believe in their own interests, and in the interests of the United States.
The dismissive attitude is not reserved for his country only, because the US is ruled by people of extreme white nationalist views, he said. President Donald Trump is a white supremacist, Maduro agreed when asked by the reporter.
"He is, publicly and openly. He has encouraged the fascist tendencies, the neo-fascists and neo-Nazis within the United States, in Europe, in Latin America. It's an extremist tendency that hates the world," he said.
Also on rt.com
A bridge too far: US claims Venezuela blocked aid deliveries... at a crossing that was never open
Maduro appealed to the public around the world to denounce US actions and possible military intervention in Venezuela.
"Wake up, open your eyes and see: this is an aggression against a peaceful country," he said.
If you really want to help Venezuela, you have to support peace. Say 'no' to the intervention. Tell the US: 'hands off Venezuela'. And support Venezuela in its own effort to resolve its own problems through dialogue.
The Venezuelan president also reiterated that part of the economic hardship that his country is experience can be explained with crippling US sanctions, which Washington has been ramping up against his government for years. He dismissed the apparent publicity stunt by Washington to deliver 'humanitarian aid' to Venezuela through Guaido's opposition group as part of the US "charade" to justify eventual military intervention.
Venezuela remains in the balance with Maduro and Guaido fighting for loyalties at home and recognition from foreign nations. While many US allies in Latin America and elsewhere followed its lead to recognize the self-proclaimed 'president', countries like Russia and China expressed support of Maduro's government and attempts for national dialogue.
Inside Venezuela, the military are the main focus for both sides at the moment, since their decision may make or break Guaido's attempt to seize power without major bloodshed or a direct military aggression by a foreign power.
Also on rt.com
Backed by UNSC? 5 moments from Guaido's interview with RT that don't quite add up
Think your friends would be interested? Share this story!
You can share this story on social media: