Surveillance Guinea pigs? Facebook paying teens $20/month for unfettered access to mobile data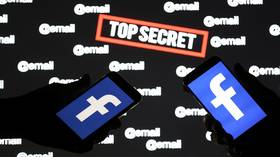 Facebook has been paying users $20 a month to install an app which monitors their phone and web activity and sends it back to the social media giant, a report has revealed. The app may run afoul of Apple's privacy guidelines.
Launched in 2016, the "research app," first uncovered by TechCrunch, allows Facebook to continuously collect a user's private data, including chats from instant messaging apps, photos and videos, emails, web browsing activity, and more. Aimed at people aged 13 to 25, the app, according to Facebook, is designed to study mobile usage habits. Users were also asked to take screenshots of their Amazon order history page.
Facebook: why is everyone being nasty about us now.Also Facebook: we made an app that breaches Apple's terms and lets us pay teenagers to give us root access to their phones, so we can see everything they do including the messages and photos they send.https://t.co/6KS04HTx7D

— John Burn-Murdoch (@jburnmurdoch) January 30, 2019
While the app is voluntarily downloaded and installed in exchange for upwards of $20 a month, critics have noted that the program closely resembles a similar Facebook-owned app, Onavo, which gave the company undisclosed access to sensitive user data. Facebook was later forced to remove Onavo from Apple's App Store, due to violations with Apple's data collection policies.
TechCrunch also reported that Facebook took steps to conceal its involvement in the "research" project, opting to contract outside companies to promote and find recruits for a "paid social media research study." Users are only informed that the app is called "Facebook Research" until just before they install the program.
Facebook hid its identity but had intermediaries like uTest advertise to teens on Snapchat & Instagram that they could earn money via "social media research" aka selling their privacy. 3/ pic.twitter.com/9ohODeYXxM

— Josh Constine (@JoshConstine) January 29, 2019
Responding to TechCrunch's report, a Facebook spokesperson said that "key facts" about the program, dubbed "Project Atlas," were being ignored.
"Despite early reports, there was nothing 'secret' about this; it was literally called the Facebook Research App. It wasn't 'spying' as all of the people who signed up to participate went through a clear onboarding process asking for their permission and were paid to participate. Finally, less than 5 percent of the people who chose to participate in this market research program were teens. All of them with signed parental consent forms."
I thought I'd see how robust the parental control for Facebook's programme is. In less than five minutes I was able to sign up as a 14-year-old boy... with two kids. It required no proof of parental consent at all. I've just been sent a link to download the iOS app. pic.twitter.com/z6www8SgQJ

— Dave Lee (@DaveLeeBBC) January 30, 2019
Nonetheless, Facebook said it will shut down the iOS version of its Research app in the wake of TechCrunch's report.
The tech giant, however, still insisted that the app does not violate any of Apple's privacy guidelines – even while admitting the program shared similarities with its previously banned app, Onavo.
TechCrunch suggested that the app violated Apple's Enterprise Certificate policy, which places tight restrictions on accessing sensitive user data.
Also on rt.com
'Facebook has never cared' about privacy: Cambridge Analytica app developer
The company came under fire last year after it was revealed that the company had allowed Cambridge Analytica to harvest the personal data of millions of people's profiles without their consent and use it for political ad targeting. The scandal forced CEO Mark Zuckerberg to testify before Congress and answer questions from EU lawmakers about the platform's data protection and privacy policies. Zuckerberg insisted that the data breach was an isolated incident, but a lead developer at Cambridge Analytica insisted that "tens of thousands" of apps used the same loopholes which allowed the company to scoop up so much data.
Since then, the social media behemoth has faced a series of incidents that have rocked public trust in the company. A majority of Americans now believe their personal data is unsafe with Facebook. Six in 10 Americans also think the government should increase regulations on social media and technology companies, in general, to prevent their private user data from being shared without their consent.
Subscribe to RT newsletter to get stories the mainstream media won't tell you.
You can share this story on social media: