Pipeline explosion kills 66, burns dozens in central Mexico (VIDEO)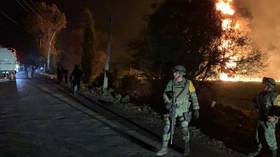 A pipeline explosion north of Mexico City has killed at least 66 and injured dozens more as people gathered around the ruptured Pemex line to collect free fuel. Another blast came minutes later near San Juan del Rio.
The death toll was provided by Hidalgo governor, Omar Fayad, who also told the media that 76 people were injured in the blast. A 12-year-old was among those wounded, he said, warning that the number of fatalities may still increase.
"I urge the entire population not to be complicit in fuel theft. Apart from being illegal, it puts your life and those of your families at risk," Fayad wrote on Twitter earlier.
The pipeline had been spewing fuel for several hours near Pemex's Tula refinery, and hundreds of people had reportedly gathered round with plastic containers and even vehicles to grab whatever fuel they could carry – rendering the eventual explosion that much more deadly. Videos posted on social media, apparently from the scene, show flames shooting dozens of meters upwards as people scurry around screaming.
Pemex said in a statement that the fire was because of illegal siphoning at the Tuxpan-Tula pipeline in Tlahuelilpan.
The site has been secured by the Mexican Army. President Andres Manuel Lopez Obrador has made cracking down on fuel thieves a priority, stating that the siphoning cost the government over US$3 billion in 2018.
Just minutes after the explosion, another Pemex pipeline exploded in Paso de Mata, near San Juan del Río, sending yellow fireballs into the air. No one was reported injured in that blast.
Like this story? Share it with a friend!
You can share this story on social media: