Erdogan on Manbij blast: 'Trump won't halt Syrian withdrawal because it would mean ISIS wins'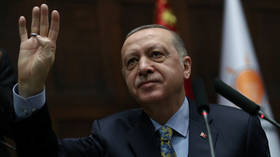 The terrorist attack in Syria's Manbij killed 20 people, including 5 US soldiers, said Turkish President Recep Tayyip Erdogan, adding he believes the attack won't make US President Donald Trump to cancel the withdrawal of troops.
Speaking on live TV amid a visit of the Croatian president to Turkey, Erdogan said that the Wednesday suicide attack in Kurdish-controlled Manbij was directed at Trump's decision to withdraw troops from the war-torn country.
LIVE — Erdoğan: The attack in Manbij might have been meant to affect Trump's decision to pull out from Syria. But as I saw Mr. Trump's decisiveness, I don't think a backward step would follow such a terror attack. Otherwise, it would mean a victory for Daesh pic.twitter.com/sErlWZLwh5

— DAILY SABAH (@DailySabah) January 16, 2019
#BREAKING - Turkey's Erdogan says he doesn't believe Trump will lie down in face of attack in Manbij, Syria, as this would be victory for Daesh

— ANADOLU AGENCY (ENG) (@anadoluagency) January 16, 2019
But the Turkish leader said he believes Trump won't reverse his decision to withdraw.
"The attack in Manbij might have been meant to affect Trump's decision to pull out from Syria," he said. "But as I saw Mr. Trump's decisiveness, I don't think a backward step would follow such a terror attack."
Erdogan's comments come after a suicide bombing killed at least twenty people in the Kurdish-controlled northern Syrian city of Manbij on Wednesday. Several of those dead are American soldiers. The US-led coalition in Syria confirmed that US troops were killed, but did not say how many. US Central Command eventually confirmed the deaths of two service members, as well as a civilian and a contractor.
Also on rt.com
US-led coalition says American soldiers killed in Syria after blast in Kurdish-held Manbij (VIDEOS)
Erdogan said that five of the victims were American, however.
"The information I have is news pointing toward that there are five US soldiers and 20 died in total," the Turkish leader stated. His country's foreign ministrry condemned the
Following the attack, US Vice President Mike Pence said that the withdrawal of the roughly 2,000 US troops in northern Syria will go ahead as planned, but US forces will remain in the region to ensure that "ISIS does not rear its ugly head again."
With the US extricating itself from Syria, Turkey is poised to move in and fight the jihadists. Manbij, however, is controlled by Kurdish fighters, considered by Ankara to be terrorists. As such, the US has sought to protect its Kurdish allies, who will be at the mercy of Turkish forces once the US leaves.
Also on rt.com
Trump threatens to 'devastate Turkey economically' if it attacks Kurds amid US withdrawal from Syria
President Trump warned Erdogan that he would "devastate Turkey economically if they hit Kurds," in a tweet posted Sunday night. Trump did not elaborate further, but urged Erdogan to create a 20-mile exclusion zone around Kurdish positions to guarantee the Kurds' safety.
Meanwhile, Kurdish forces reportedly withdrew some troops from Manbij at the beginning of this month, having invited Syrian government forces to take their place. While Damascus posted videos of the supposed withdrawal on its Facebook page, and earlier claimed that Syrian Army troops were entering Manbij, Erdogan called the developments a "psyop" and denied that the Syrian troops were there. If the Kurds left, Erdogan said, there would be "no job left" for the Turkish military.
Turkish-backed militias in Syria are also reportedly awaiting orders from Ankara to move against the Kurds, but with US forces still in place, no fighting has happened yet.
Also on rt.com
Operation against Kurdish-led militias in Syria not dependent on US troops withdrawal – Turkish FM
With no set date for a US withdrawal, National Security Adviser John Bolton has said that it would only occur after the US had drawn up a contingency plan with its allies in the region to protect Kurdish fighters. Likewise, Secretary of State Mike Pompeo said that "ensuring that the Turks don't slaughter the Kurds" was "still part of the American mission" in Syria.
Think your friends would be interested? Share this story!
You can share this story on social media: