Canadian sentenced to DEATH in China after being found guilty of drug smuggling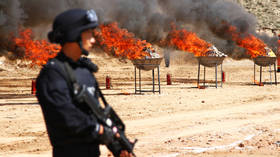 A Canadian man convicted of smuggling an "enormous amount of drugs" into China has been sentenced to death by a Chinese court in a case that will likely further strain relations between Ottawa and Beijing.
A former oil worker, Robert Lloyd Schellenberg, was initially arrested back in 2015 on suspicion of smuggling more than 200 kilograms of methamphetamine into China. In November 2018, he was sentenced to 15 years in jail and a fine amounting to 150,000 yuan ($22,185).
Also on rt.com
Canadian who 'smuggled enormous amount of drugs' may face death penalty in China
The Canadian, who claims to be innocent and accuses China of framing him, appealed his case – but his appeal apparently backfired as the Chinese prosecutors considered his sentence too lenient and demanded a harsher one.
Evidence obtained by the investigators "suggests Schellenberg was involved in organized international drug crime," the prosecution argued.
China's 4-day notice for retrial of Canadian Robert Schellenberg draws criticism from Western legal experts and his family. His defense lawyer had been denied access to his case files until late October, shortly before the first verdict, I am told https://t.co/CsGyugzGuEpic.twitter.com/v2kCCq4WgA

— Eva Dou (@evadou) January 11, 2019
The death sentence has provoked an angry reaction from Canada. Prime Minister Justin Trudeau said he was deeply troubled by the development while denouncing the move as an abuse of power.
"It is of extreme concern to us as a government, as it should be to all our international friends and allies, that China has chosen to begin to arbitrarily apply [the] death penalty… as in this case," Trudeau told reporters. He also promised to continue to "engage strongly" with Beijing on the cases of Canadians detained in China.
Several international rights groups have also condemned the verdict, arguing that there was a hidden agenda behind it. "China is going to face lots of questions about why this particular person, of this particular nationality, had to be retried at this particular time," Sophie Richardson, Washington-based director of Human Rights Watch, told Reuters.
Meanwhile, some questioned whether the drug-related crime meets the threshold of the "most serious" offenses. William Nee, a Hong Kong-based China researcher with Amnesty International, said it does not warrant a death sentence under international law. He added that Beijing drew particular attention to this case in a "deliberate way."
China's strict drug laws apply a sentence of "15 years, life imprisonment or death" as well as property confiscation for drug trafficking in amounts over a kilogram. China has executed foreign drug smugglers before: UK citizen Akmal Shaikh was put to death in 2009, despite protests from British authorities, for smuggling over four kilograms of heroin.
Also on rt.com
China insists detained Canadians 'without a doubt' broke security laws
This court decision, however, also comes against the backdrop of an ongoing row between China and Canada sparked by an arrest of the Huawei CFO Meng Wanzhou, who was detained as she attempted to change planes at Vancouver International Airport en route to Mexico in late 2018.
Soon after that, China detained two Canadian nationals, Michael Spavor and Michael Kovrig, on charges of endangering national security. Although the Canadian authorities never suggested any explicit connection between the arrests, some still saw Beijing's actions as retaliation.
Meng was detained at the request of the US authorities with a view to seeking her extradition on charges of violating the sanctions regime against Iran. Beijing has demanded her release, while US President Donald Trump hinted that he may use her as a bargaining chip in trade talks with China.
Think your friends would be interested? Share this story!
You can share this story on social media: