20 injured as disgruntled 'staff member' attacks children with HAMMER at primary school in China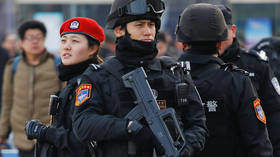 A man attacked pupils with a hammer at a primary school in Beijing, injuring 20 and leaving at least three children in a serious condition. The suspect, who turned out to be a sacked maintenance worker, has been detained.
The incident happened at around 11:15am local time in the city's Xicheng district, police said. While early reports suggested the attacker was armed with a knife, it turned out he used a hammer during the rampage.
All of the victims were hospitalized. Three of the children sustained serious but not life-threatening injuries and remain in a stable condition.
According to local news outlets, a video circulating on Chinese social media shows a head teacher saying that the attacker worked at the same school.
"A worker at our school attacked 20 students in a first-floor stairwell," the teacher said, as quoted by the South China Morning Post.
The man was later identified as a temporary maintenance worker of the school, surnamed Jia. The 49-year-old man was employed through a labor company, and the school decided to not renew his contract, which was set to expire this month. The dissatisfaction with the school's decision has apparently prompted the attack, media reports, citing local administration.
The suspect has been detained.
Attacks on primary schools and children's daycare centers have become more common in China in recent years. In 2017, a man in his 40s injured 12 children with a vegetable knife during a rampage in the southern city of Pingxiang. He was executed last week.
In October, a 39-year-old woman stormed a kindergarten in Chongqing, southwest China, injuring 14 kids with a kitchen knife.
Also on rt.com
Woman stabs 14 kids in Chinese kindergarten
Think your friends would be interested? Share this story!
You can share this story on social media: