Probe launched after 3 passenger flights allegedly in danger of mid-air collision over India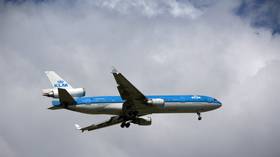 India's air accident investigation body has launched a probe into an alleged incident that might have led to a potential collision of three international flights carrying hundreds of passengers in the Delhi skies.
The incident reportedly occurred on December 23 and involved the US-based National Airlines from Afghanistan's Bagram to Hong Kong as well as Amsterdam-Bangkok KLM flight and Taiwan's Eva Air flight en route to Vienna. All three were initially maintaining international flight standards while flying at adjacent flight levels.
First, it was the National Airlines and EVA flights that somehow breached the mandatory vertical separation, the Indian media report, citing an official from the Aircraft Accident Investigation Bureau (AAIB) – an Indian state agency tasked with investigating air accidents. The reasons behind the initial off-course deviation have not been yet revealed.
"The pilots of both aircraft were alerted by the onboard TCAS [automatic Traffic Collision Avoidance System] warning system," the official said. Following the warning, the National Airlines pilot apparently decided to climb to a higher altitude, potentially risking a collision with both the EVA and the KLM flights.
The EVA pilot also started climbing to the altitude, at which KLM was already flying. The looming disaster prompted the Indian traffic controllers to intervene. They told the National Airlines flight to remain at its current level instead of climbing to a higher altitude until further instructions are received.
Eventually, all three flights successfully managed to avoid collision with the help of the air traffic controllers. However, they are now to be summoned to the AAIB, which has launched an investigation into the incident.
Like this story? Share it with a friend!