'Brutally hacked': Russia's Embassy in London website targeted in cyberattack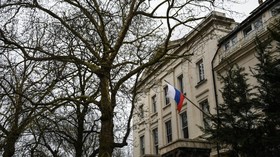 The website of the Russian Embassy in the UK was targeted by hackers. The mission says there are grounds to believe that the attack originated from Britain.
The embassy apologized to internet users after the operations of its website were disrupted by a cyberattack in the late afternoon on Monday. The Russian mission's page was "brutally hacked," it said in a statement.
The attack followed publications on the website that were related to the "UK's involvement in Ukrainian affairs and a critical comment on the BBC tasking its correspondent with finding a Russian trace in French protests."
Also on rt.com
UK gearing up for cyber-war against Russia? Moscow asks London to clarify media report
The investigation into the cyberattack is underway, but there are grounds to believe that the hack was carried out from the British territory, the embassy added.
The operations of the website have since then been restored and it's now working in a routine manner.
The Russian Embassy has been at the forefront of the war of words between London and Moscow, with its Twitter account often publishing caustic remarks about relevant news. Western media prefer to describe them as trolling by the Russian diplomats.
READ MORE: Leak at Porton Down lab may be behind UK nerve-agent poisonings – Russian embassy
For instance, as the British media were up in arms speculating that team England would need counter-espionage protection during the Russia-held FIFA World Cup, the embassy suggested there was a better option.
And later used a popular British meme to reassure football fans doubting whether they should come.
After PM Theresa May complained about EU officials of meddling in the UK's snap election with a presumed goal to derail Brexit, the embassy said it was happy for once Russia was not accused of it.
And as early as in 2016, when "Russians-did-it" blame-game was fresh and new, the embassy was there with a bit of sarcasm.
Like this story? Share it with a friend!