Read their lips: VIDEO of Theresa May's 'robust' talk with Jean-Claude Juncker raises eyebrows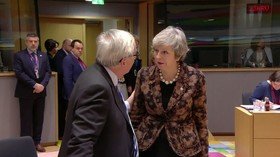 Theresa May and Jean-Claude Juncker have been caught on video having a tense conversation ahead of the EU summit. Left without sound, the footage prompted the curious online community to plunge into speculation.
In the video, the British PM, who looks quite agitated, was talking to the president of the European Commission shortly before the morning session of the summit on Friday.
Juncker appeared to be trying to calm May down, holding her arm and then raising his palm.
Lip-reading experts suggested May was asking why Juncker called her "nebulous."
He should have said, "No, no it was a misquote, I called you fabulous".

— JDog is my Wii fit name. (@BirdycatBooks) 14 декабря 2018 г.
The exchange eventually became so heated that Dutch PM Mark Rutte intervened.
At a press conference later on Friday, May confirmed that she had a "robust" conversation with Juncker, who reassured her that the "nebulous" remark was about the "general level of debate," not the UK PM personally.
Also on rt.com
'Not open for renegotiation': EU stands by Brexit deal, offers few extra reassurances to May
The ongoing EU summit has not been going May's way. The UK PM told the EU leaders that the whole Brexit deal was "at risk" if British lawmakers didn't get additional "reassurance." Yet, European leaders have refused to re-negotiate anything. Some netizens, however, suggested that the two might have actually had completely different topics to discuss besides the old, boring Brexit-related stuff.
I'm a professional lip reader and she's saying "it's too early for a round of Jäger Bombs, Jean-Claude." And then he says "fpshspghssfgppshshshs"

— Ollie (@Olle7Ho) 14 декабря 2018 г.
"I'm telling you one more time Jean-Claude Die Hard IS a Christmas movie"

— David Parry (@davidparry100) 14 декабря 2018 г.
Like this story? Share it with a friend!
You can share this story on social media: