Yellow Vest protester tipped out of wheelchair onto ground by police (VIDEO)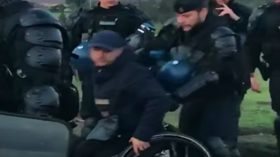 Disturbing video footage has emerged of a French Yellow Vest protester being manhandled and tipped out of his wheelchair by riot police.
The video shows a wheelchair-bound protester involved in some kind of verbal altercation with police at the side of a road. When the protester refuses to move his wheelchair, the police pick it up and forcibly move it off the road themselves and into a muddy pathway.
The police can then be seen watching as the man appears to be struggling to move the chair out of the mud, prompting other protesters to get involved and help.
Video choc della gendarmeria francese che infastidita da un disabile che manifesta con i gilet gialli lo scaraventa a terra e lo malmena. Violenza inaudita. Non possiamo più dire di non sapere cosa sta compiendo il regime di Macron in Francia. L'Onu che dice? pic.twitter.com/v0ah9ychYu

— Claudio Perconte 🇮🇹 (@ClaudioPerconte) December 9, 2018
One of the police officers then rushes toward the wheelchair again, shouting that "he is armed" as he moves forward. The view in the video is then partially obstructed by a riot shield as chaos ensues and the protester's wheelchair is eventually tipped over and knocked to the ground.
French media reported that the video was taken in Herault in southern France, where protesters had blocked a road toll as part of the anti-government protests which have rocked France for weeks.
Media reports said the protester was not arrested but that his wheelchair was damaged during the incident, and said the full context could not be understood from the video alone.
French Twitter users reacted with outrage to the video. "Where are the human rights?" one user asks, while another comments sarcastically that the police are "protecting us from dangerous wheelchairs."
"A man in a wheelchair thrown to the ground. Nothing is sacred anymore," another writes.
On Monday, French President Emmanuel Macron admitted that the country is in a state of "economic emergency." In an effort to appease protesters, Macron announced that the minimum wage would be increased by €100 ($113) a month along with other economic measures.
You can share this story on social media: