US sanctions three North Korea top officials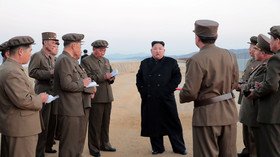 The US Treasury has imposed new sanctions on three top North Korean officials, including a close aide to North Korean leader Kim Jong-un.
Choe Ryong Hae, the Director of the Workers' Party of Korea, Jong Kyong Thaek, the North Korean Minister of State Security and Pak Kwang Ho, the director of the Propaganda and Agitation Department for the Worker's Party have all been added to the sanctions list.
Imposing the new sanctions, the US said they would "serve as a reminder" of North Korea's "brutal treatment" of US citizen Otto Warmbier who was detained in the country in 2016 for attempting to steal a propaganda poster and was later allegedly tortured, dying shortly after he was returned to the US.
The Treasury department said the new sanctions were imposed on individuals "who direct departments that perpetrate the regime's brutal state-sponsored censorship activities, human rights violations and abuses, and other abuses."
At the G20 summit in Argentina in November, US President Donald Trump reportedly said that if North Korea fully denuclearizes, he would "make what Chairman Kim wants come true," but decided in conjunction with South Korea President Moon Jae-in that existing sanctions against North Korea will remain in place until that happens.
The development comes amid reports that Kim may meet with Moon in Seoul some time in the coming months, a potentially historic visit and the first time a North Korean leader will have visited South Korea. Trump himself has also floated the idea of meeting Kim again in the near future, suggesting that it might happen as soon as January or February — and even suggesting the North Korean leader could visit the US at some point.
Like this story? Share it with a friend!
You can share this story on social media: