Run, Krampus, run: Army of Xmas demons descends on Munich Christmas market (VIDEO)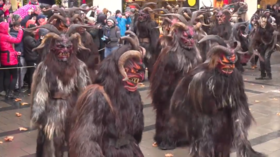 As young and old were enjoying the fresh weather and the festive cheer at Munich's Christmas markets on Sunday, a ferocious and terrifying sight emerged from the crowds: the annual Krampus run was upon them.
Krampus is Santa Claus' evil counterpart who punishes naughty children around Christmas time across several European countries. (A bag of coal would have sufficed, but apparently even mythical creatures are conscious of climate change these days.)
The half-goat, half-demon Krampus is often used as a light-hearted threat by parents who are trying to get their kids to behave; but there's nothing like a close encounter with the 'real thing' to really scare 'em straight, right?
The legend goes that misbehaving children are visited by Krampus on St. Nicholas' day and whisked away into the night, never to be heard from again. Krampusläufe or "Krampus walks" (or runs depending on the level of terror required) have been organized in southern Germany, Austria and other Alpine areas of Europe for over 500 years.
Also on rt.com
Demons banished from Vienna during creepy festival (VIDEO)
Demon-like masked creatures storm the Christmas markets rattling their chains and ringing their cowbells, creating as much confusion and consternation as they can in the process, swatting naughty children and shoppers with their sticks as they pass through.
Like this story? Share it with a friend!