Swim of a lifetime: Woman surrounded by killer whales in epic drone footage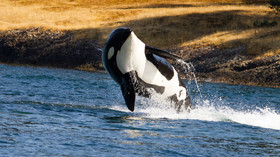 When a New Zealand swimmer noticed something large and black in the sea below her, she wasn't expecting to find herself surrounded by a pod of killer whales, or that she'd end up in a playful paddle with them.
Judie Johnson was swimming at Hahei Beach in Coromandel, New Zealand when she noticed an ominous massive black mass below her in the water. Amazingly, it turned out that she was being surrounded by three Orca whales.
At first, Johnson got out of the water, fearing she could be mistaken for a tasty-looking seal in her black wetsuit - but despite her misgivings, she was unable to resist getting back in.
"It was so different to anything that's happened to me before, and I thought, no, this is a life-changing experience," she told TVNZ. "They were as interested and curious about me as I was about them."
The once in a lifetime moment was captured by an Australian tourist Dylan Brayshaw, who was on the beach with his drone, and was surprised to see Johnson swim towards the whales. "I didn't know what was going to happen," he said of the tense encounter.
The incredibly tranquil footage shows Johnson swimming calmly with an adult Orca and two calves. The mammals swim around their human companion, with the adult whale appearing to playfully nip at her toes.
READ MORE: Dirty business: Inside a 'whale prison' for captured orcas & belugas (VIDEO)
Speaking afterwards of the incredible encounter, Johnson said she was so close to the adult orca, "we just looked at each other," while swimming beside one another. "It was just sheer joy."
Like this story? Share it with a friend!