Man attacks three women with knife at train station in Mulhouse, France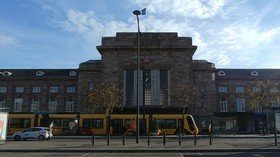 At least three people were targeted in a stabbing attack at a train station in the French city of Mulhouse, local media reports. Two of them were injured, and the assaulter was detained.
All the victims of the attacker are women, at least two of them received injuries. The third one has reportedly managed to flee the man, who only tore her clothes.
The suspect was apparently "known" to the police prior to the incident, according to local media. The man fled the scene, yet he was promptly apprehended by law enforcement.
The suspect is described as an "unstable" individual and was sent by police for a psychiatric check.
READ MORE: 7 injured in Paris after man armed with knife, iron bar goes on stabbing spree
The two injured women have been attended by a medic, who happened to be at the scene and then rushed to a local hospital. One of the women was reportedly stabbed in the back, while another one – wounded in her stomach.
The incident occurred at the railway station, located in the eastern French city of Mulhouse, close to the border with Germany.
Think your friends would be interested? Share this story!
You can share this story on social media: