Rewind revolt: YouTube's 2018 wrap-up is not going down well (VIDEO)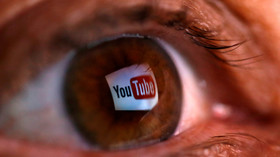 YouTube's annual Rewind post has been flooded with over 5.6 million downvotes as users express their anger at what didn't make the cut, and the video is on its way to becoming the most disliked ever on the platform.
'YouTube Rewind 2018: Everyone Controls Rewind' video has been watched over 72 million times since it was released on Thursday, and many viewers are accusing YouTube of framing the video to attract advertisers instead of accurately reflecting on the past year.
PewDiePie owns the most subscribed YouTube channel and his absence from the video did not go unnoticed. He, unsurprisingly, made a YouTube video about it, in which he slammed the YouTubers featured in the video for praising the video-hosting service.
"You were paid!" he criticised.
PewDiePie's rivalry with Indian music channel T-Series was also missing from the rewind. The battle to ensure PewDiePie remains the most popular YouTube channel saw his loyal fans spend money on ads to encourage people to subscribe.
YouTuber Logan Paul's controversial video of a dead body was one of the biggest internet scandals of the year, and he was also absent from the round-up. Paul came under fire for sharing a video of a likely victim of suicide he found in Japan's Aokigahara forest in January.
Meanwhile, a boxing match between Paul and fellow YouTuber KSI that was held in Manchester in August was also missing from YouTube's end of year post, despite garnering over 1 million live stream views.
K-pop fans were furious that the 2018 re-cap video mentioned the genre, but not superstars BTS.
The rewind did include a number of 2018 trends, like ASMR, the shark song and Fortnite. It also featured the actor Will Smith, comedians John Oliver and Trevor Noah, and Fortnite personalities.
The most disliked YouTube video of all time is Justin Bieber's Baby, which racked up a stonking 9.73 million dislikes, and YouTube's rewind is currently in second position.
Think your friends would be interested? Share this story!
You can share this story on social media: