Police arrest 300+ in Paris ahead of mass Yellow Vest protests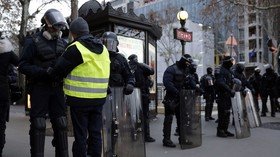 More than 300 people have been arrested ahead of Saturday's Yellow Vest rallies in Paris, police say. It comes a day after authorities warned about "radicals" trying to exploit the movement and topple the government.
The nation is preparing for a new wave of mass protests that are gripping France for the fourth consecutive weekend. Some 89,000 officers are patrolling the streets across the country. Armored vehicles belonging to military police were also deployed to the heart of the French capital.
Ahead of the major protests, police announced that at least 354 people were arrested in the city. Authorities did not elaborate on the exact reasons for the detentions.
Also on rt.com
'France's climb-down on fuel tax is act of panic amid insurrection & possible revolution'
Earlier, Johanna Primevert, a spokesperson for the police prefecture, told RTL that 34 people have been taken into police custody. The officers found masks, hammers and stones while searching them, French media says.
READ MORE: French unrest: Macron too arrogant to quell the riots, analysts say
The detentions come a day after French government spokesman Benjamin Griveaux warned that radicals are trying to exploit the Yellow Vest movement and overthrow the government. Reports in the French media also claim that Saturday's demonstrations may be hit by violence caused by both "radicalized… extreme right and extreme left."
France is still reeling after unprecedented violence on December 1, which resulted in street battles with law enforcement across the country. Over 130 people were injured and more than 400 arrested in the mayhem.
This Saturday, the Yellow Vest rallies continue unabated even after the government conceded to their demands and abandoned the fuel tax hikes and an increase to the fuel tax. The demonstrators are billing their planned action on Saturday as "Act IV. Stay on the course."
Think your friends would be interested? Share this story!
You can share this story on social media: