'France's climb-down on fuel tax is act of panic amid insurrection & possible revolution'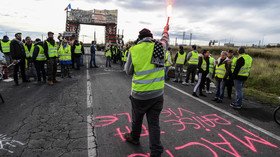 Elected by default, Macron's administration was supposed to be a new broom to break the mold and change what previous administrations had not dared to, but now we see how fragile political system is, professor John Laughland said.
Students are back out on the streets of France protesting against the government's education reforms, forcing over 150 schools to close, with some demonstrations turning violent in a number of cities. This comes as the French government scraps a fuel tax hike after weeks of mass protests against the issue.
Meanwhile, French government spokesman Benjamin Griveaux warned about provocateurs saying that "radicalized elements try to exploit the movement" in order to "overthrow the authorities."
Also on rt.com
Paris warns radicals are trying to exploit Yellow Vests & overthrow the government
RT discussed the current crisis in France with John Laughland, a professor of political science at the Catholic University of the Vendée.
RT: Was the French government climb-down on the fuel tax an admission that it is wrong or was it an act of panic just to stop further mass rallies on the streets?
John Laughland: I think it is out of panic. I think you are dealing here with a very fragile situation – a situation of insurrection and possibly a revolution. Because although the demonstrations have taken everyone by surprise and the emergence of this movement was completely unexpected, the fact is there is a lot of background to this. There has been a lot of discontent in France for many years and probably for decades. The people in power now in France know that their support base is very thin. We must never forget that Macron was elected on a very low turnout. In the first round of the election he got a very low score, much lower even than his unpopular predecessors. And that he was elected firstly by default because he was standing against Marine Le Pen who was demonized but also he was elected because he had managed to conjure a new political party out of thin air and he was elected on the basis of a collapse of confidence in the traditional center-right and center-left parties both of which lost the election very badly. He was elected in other words by default. He was elected because the French population, a large part of it had lost confidence in the whole political class. And that is the key to Macron's victory and he probably knows that. And now that these demonstrations have started, I think that we may see how fragile a political system is in this country. And certainly the president-incumbent.
Also on rt.com
France's Yellow Vest movement strikes a victory for working people across the EU
RT: There are those that argue that this climb-down of the government is actually making things worse because it does embolden people to go out on the streets and cause violence in the hope they too would get something from the government.
JL: That is absolutely right. The fact is that although one can have sympathy with people who are on low wages and there are plenty of those people in the French countryside, although one can certainly sympathize with them feeling the brunt of taxes because France does have [one of] the highest taxes than anywhere in Europe. This step back is more important symbolically almost than anything else because it symbolizes the inability of France to reform herself.
And this is a chronic structural problem in French politics which is being dragging on now for decades and decades. And the fact that just after a few demonstrations they've backtracked on this means that the government has lost its reason for existing. Because the whole point about this new administration was that it was supposed to be a new broom which would break the mold and would undertake changes that other previous administrations had not dared to undertake.
We see that almost at the first hurdle, they fall. And that is why I think that we are in a very dangerous situation at the moment in France. Because when we talk about gilets jaunes which is a very modern, I would say postmodern movement, it has emerged from nowhere, presumably organized through social networks, it is very amorphous, it doesn't seem to have a structure, the saying to some extent is true of the governing party which also emerged very suddenly in the run up to the electoral campaign last year and which also doesn't have a very solid structure. Under the pressure of the street, even the governing party could split because not much unites those members of parliament. They were only united by a vague hope in Emmanuel Macron. And that hope is vanishing very quickly because his popularity is going through the floor.
Also on rt.com
Revolution in Ukraine? Yes, please! Revolution in France? Rule of law!
RT: It is difficult to assess where this is going to go next because there doesn't seem to be any obvious or quick solution, does there?
JL: There are no solutions. The problem is that Macron when he came to power hoped that he could repair France's chronic debt problem, which really is very bad indeed, by getting his hands on German money, by means of creating a European Federal budget. He is like a man who is up against it and will steal almost from anywhere to live through to the next week. That plan was rejected quite firmly by the Germans. There is no chance that France will have access to a Federal European budget. And that means that change and reform has to come somewhere else. And the place where it needs to come, where Macron said it would come in his manifesto, is from overspending by the French state. He promised 60 billion euros of savings in his manifesto. But we haven't seen a single centime of saving in France, no department has been closed down, nothing has been sold off to raise money; people haven't been sacked from the public services. This decision to back down puts France literally back to square one. And France has been at square one now for at least a generation.
Think your friends would be interested? Share this story!
You can share this story on social media: