Images of students' arrests 'shocking', France in 'exceptional violence' – education minister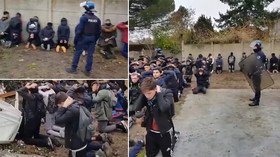 French education minister Jean-Michel Blanquer admitted that the images of high school students on their knees, while being arrested by baton-wielding officers are "shocking."
The controversial video from Mantes-la-Jolie released late Thursday has been a hot topic of discussion on social media. Depicting rows of education reform protesters on their knees, hands on heads, with helmeted police officers, it gathered thousands of retweets and angry comments. Many users compared the manner the officers were handling the arrestees with execution by firing squad.
READ MORE: Paris warns radicals are trying to exploit Yellow Vests & overthrow the government
On Friday morning, French Education Minister Jean-Michel Blanquer was asked by France Inter radio to give his opinion on the video.
The image is shocking, there have been shocking images because we are in a climate of exceptional violence
By "climate of exceptional violence" he was referring to Yellow Vest protests that have been gripping the nation for the third consecutive week. Big rallies are expected this Saturday and authorities are gathering re-enforcements in the face of 89,000 police officers and armored vehicles belonging to Gendarmerie, the country's military police.
Blanquer called upon those who react to the footage to analyze the situation in this context. "What happened? There are those who don't attend these high schools, they are more than 20 years old … and they manage to gather students [in these schools]," he said. These very people attacked police officers, who tried to neutralize them and line them up against a wall, he added.
READ MORE: 'Like execution by firing squad': VIDEO of French students' arrest by armed police stirs OUTRAGE
The minister insisted that it was "a miracle" that Mantes-la-Jolie clashes didn't result in any deaths. Meanwhile, the Yellow Vest rallies that gripped the nation last Saturday turned violent, resulting in the deaths of four people.
Thursday's clashes resulted in 153 arrests and most of them were students. Similar clashes happened across the whole of France, and as of Friday some 700 high schools across the country were disturbed by protests and 400 of them were closed.
Think your friends would be interested? Share this story!
You can share this story on social media: