Army on the way to Paris? PHOTOS & VIDEOS of French armored vehicles on the move emerge online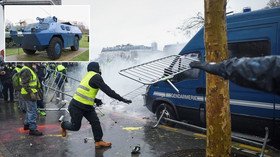 Photos and videos of armored vehicles allegedly approaching Paris to be deployed during Saturday's protests have appeared on Twitter. Earlier, the French PM promised military police vehicles at the rallies.
Even though the government dropped the fuel tax hike after mass protests last week, the Yellow Vests will still march on December 8.
On Thursday evening, Prime Minister Edouard Philippe promised 8,000 additional officers in Paris and 89,000 nationwide to be deployed during the protests. He also announced that "a dozen armored vehicles" belonging to the French Gendarmerie will be rolling on the streets of the City of Lights.
READ MORE: Paris warns radicals are trying to exploit Yellow Vests & overthrow the government
Right after Philippe's statement, people on Twitter started posting unconfirmed photos and videos of vehicles which they claimed were approaching the capital. "The army arrives in Paris," one person wrote.
The French Gendarmerie is a military police force which works under the jurisdiction of both the Interior and Defense Ministries. This type of deployment has not occurred since riots broke out in the Paris suburbs in 2005.
France is still recovering after violent clashes on December 1 resulted in over 130 people injured and more than 400 arrested. Four people, including an elderly woman, died.
This Saturday, the Yellow Vests' slogan is "we stay on our course." One of the movement's leaders, Eric Drouet, even promised to reach the Elysee Palace, the official residence of President Emmanuel Macron.
Some reports in French media even claim that the authorities are worried about a possible coup attempt. There have been calls to attack parliamentarians, government officials, and police.
Like this story? Share it with a friend!
You can share this story on social media: