'Luring homosexuals': French terror suspect obsessed with ISIS could have plotted TRAP for gays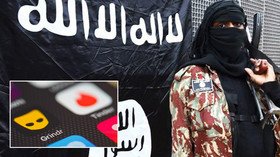 An alleged Islamic State (IS, formerly ISIS) supporter who was arrested on charges of plotting terrorism also planned to kill gay men by luring them through dating websites, according to French media.
The 23-year-old Pakistani, who was arrested in June alongside his 21-year-old Chechen friend, came under the spotlight of the General Directorate for Internal Security (DGSI) intelligence agency at the beginning of the year, with the French bureau looking into his involvement in online Salafist circles.
Just before his arrest, at the end of May, authorities also discovered the suspect had used dating websites to contact young men, Le Parisian reported.
According to the newspaper, the Pakistani terrorist suspect – identified only as 'AB' – contacted 20 or so gay men through dating websites. He used a picture of a white male with blonde hair in his profile.
One of them told investigators that the Pakistani had called him offering oral sex, while speaking in a thick accent which didn't align with his profile picture. The man immediately became suspicious and called police.
AB has denied being gay or bisexual, and denies contacting any of the men who claim they received messages from him. "I am a practicing Muslim but against terrorism," he told police.
However, that claim doesn't align with something else authorities found – some 7,000 images of Islamic State atrocities, as well as cryptic Telegram messages referencing a "project" which he told others to be "discreet" about.
Meanwhile, AB's Chechen friend was found to own a ring with IS symbols on it, along with several knives and a makeshift firearm. When confronted by investigators, he said he "just wanted to be like Macgyver on TV," referring to the on-screen American legend known for his unconventional problem solving.
The "project" allegedly being planned by the two suspects is one of at least five major terrorist plots to be thwarted by French authorities this year, according to Interior Minister Christophe Castaner, who revealed that number in October.
Like this story? Share it with a friend!
You can share this story on social media: