WATCH spectacular on-board footage of the Soyuz rocket blasting off
Published time: 6 Dec, 2018 01:17
Edited time: 6 Dec, 2018 10:55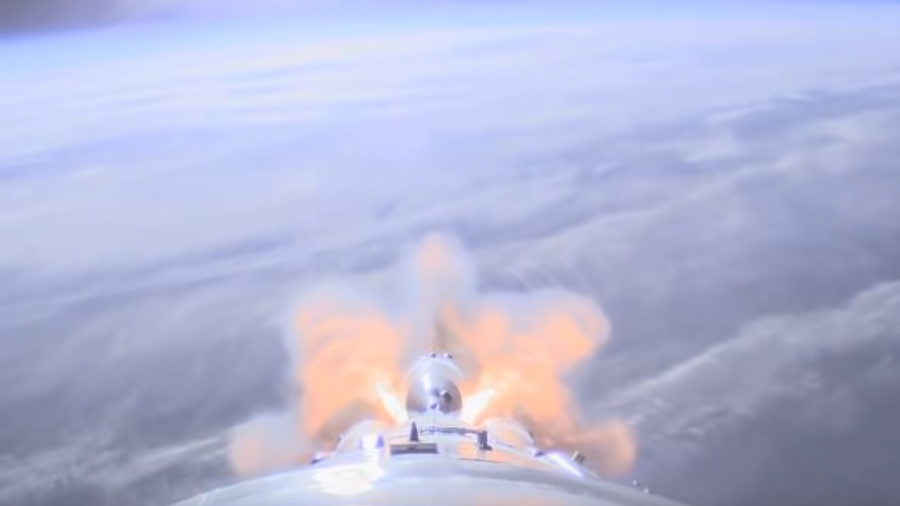 Thrilling footage has been released showing the Russian Soyuz rocket shooting upwards as it carries the MS-11 spacecraft with a three-man crew on board to the International Space Station (ISS).
The video taken by a camera mounted on the hull of the rocket shows it blast off from the launch pad in clouds of fire and smoke. With a pillar of fire coming out of its propulsion nozzle, the rocket arcs into space, leaving the Baikonur spaceport far behind.
In less than a minute, the rocket bursts through cloud cover. A minute later, it reaches the upper layers of the atmosphere, where the side boosters get cut off, detach and fall back to Earth.
On December 3, the Soyuz MS-11 carried Russian cosmonaut Oleg Kononenko, Canadian David Saint-Jacques and NASA's Anne McClain from Earth into orbit. Kononenko and Saint-Jacques were the backup crew members for the previous MS-10 mission which ended with a booster separation failure.
The October 11 launch saw two crew members, Aleksey Ovchinin and Nick Hague, escape certain death in a massive high-altitude blast, as their capsule was pulled away from the Soyuz-FG rocket by the time-proven Russian emergency rescue system SAS before it landed back in Kazakhstan. It turned out the poorly-assembled booster damaged the craft when it detached from the second stage.
Like this story? Share it with a friend!