Circle of life: World's first baby 'miraculously' born using womb transplanted from dead woman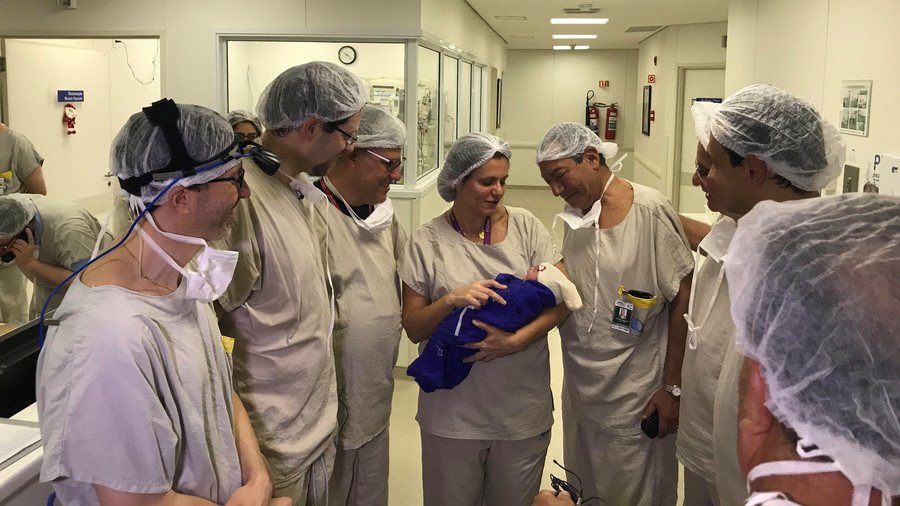 A baby girl was born from the womb of a deceased woman in the Brazilian city of São Paulo, in a world-first which could bring hope to countless infertile women.
The 32-year-old mum was born without a womb due to the rare Mayer-Rokitansky-Küster-Hauser syndrome, which doesn't allow the vagina and uterus to form properly.
Desperate for a child but with little hope of having one, the woman got a womb transplant from a 45-year-old mum-of-three who had died of a stroke.
Doctors from the Hospital das Clinicas in São Paulo spent over ten hours transplanting the womb in September 2016. Seven months later, the woman was pregnant, research on The Lancet medical journal reports.
The baby girl was born on December 15 last year by a Caesarean section.
While at least 11 babies have been born from uteruses transplanted from living women, scientists say it is the very first time a human has born from the womb of a dead woman.
Also on rt.com
'I feel like finally I'm okay': First full penis & scrotum transplant performed on US veteran
Ten previous attempts at giving life via a deceased person's womb have failed or resulted in miscarriage.
Dr. Dani Ejzenberg, from the São Paulo clinic, said: "The first uterus transplants from live donors were a medical milestone, creating the possibility of childbirth for many infertile women with access to suitable donors and the needed medical facilities."
The groundbreaking delivery opens a path "to healthy pregnancy for all women with uterine factor infertility, without need of living donors or live donor surgery."
If you like this story, share it with a friend!
You can share this story on social media: