'I feel like finally I'm okay': First full penis & scrotum transplant performed on US veteran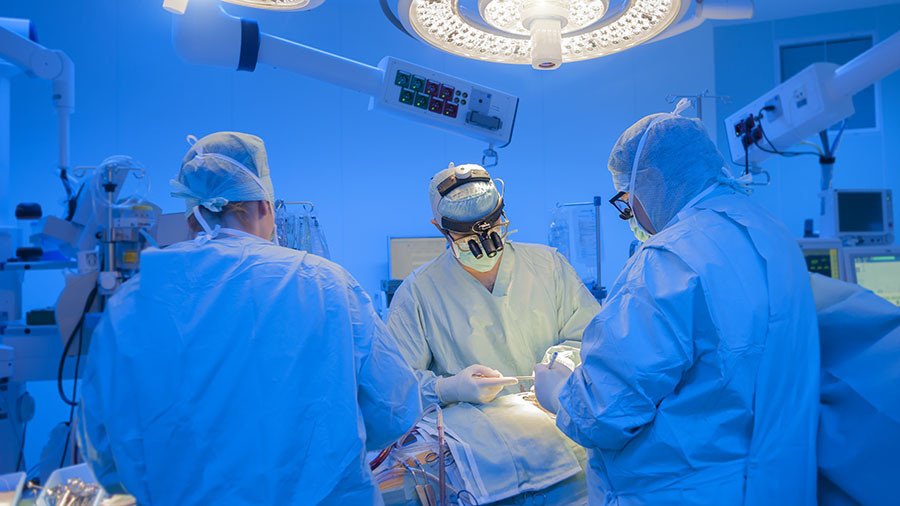 Doctors in Baltimore, Maryland, have successfully performed an unprecedented penis and scrotum transplant on a military veteran. It is hoped that the operation will restore the man's urinary and sexual functions.
The procedure was performed on March 26 in Baltimore's John Hopkins University, on a man who had been injured by a bomb while serving in Afghanistan. The complex and extensive operation on the pelvic region was the first of its kind in history.
During a 14-hour operation, a team of nine plastic and two urological surgeons managed to transplant the penis, scrotum, and a large section of tissue surrounding abdominal area. At the same time they had to connect three arteries, four veins and two nerves from a deceased donor, whose organ was reportedly transported from another state.
Due to ethical considerations, it was decided not to transplant the donor's testicles as well. After the procedure, they could have continued to produce the donor's sperm, possibly allowing the recipient to father a child with the donor's DNA, according to Damon Cooney, a professor of plastic and reconstructive surgery at Johns Hopkins University School of Medicine, as cited by the Verge.
The chief of plastic surgery at John Hopkins, professor W.P. Andrew Lee, M.D., expressed his hope that the successful procedure will give his patient a new quality of life.
"We are hopeful that this transplant will help restore near-normal urinary and sexual functions for this young man," he said.
The patient, whose name has not been revealed, said the injury he suffered was "mind-boggling and not an easy one to accept." He is now recovering and taking immunosuppressive therapy to prevent rejection. The man is expected to be discharged from the hospital this week.
"When I first woke up, I felt finally more normal... [with] a level of confidence as well. Confidence... like finally I'm okay now," he said, as cited by a statement released by the hospital.
Doctors believe the procedure could revolutionize the lives of many, but they are not planning to perform such "transplantation for gender reassignment surgery." Apart from visible scars or lost limbs caused by blasts, "some servicemen also return with debilitating hidden injuries — the loss of all or part of their genitals," the university said in statement. Some 1,367 US servicemen deployed to Iraq and Afghanistan sustained one or more genitourinary injury between October 2001 to August 2013, according to a study by the Department of Defense Trauma Registry.
There have been a handful of successful penis transplant cases, and this is the fourth in the world so far, according to Richard Redett, clinical director of the Johns Hopkins genitourinary transplant program. However, the level of complexity of previous procedures was not as high, as it was only the organ itself to be taken from the donor.
The first one occurred in 2014, when South African doctors transplanted a penis to a victim of a botched circumcision after a nine-hour surgery. The man was then even able to impregnate his girlfriend. Another patient who lost his penis to cancer underwent surgery in 2016 at Massachusetts General Hospital. The third procedure took place in South Africa again in 2017. A 40-year-old black male, who had lost his penis 17 years prior, received a transplanted organ from a white donor, and had to further receive medical skin darkening to correct skin tone differences.
Think your friends would be interested? Share this story!
You can share this story on social media: