WATCH Peresvet combat laser system enter test duty in Russia (VIDEO)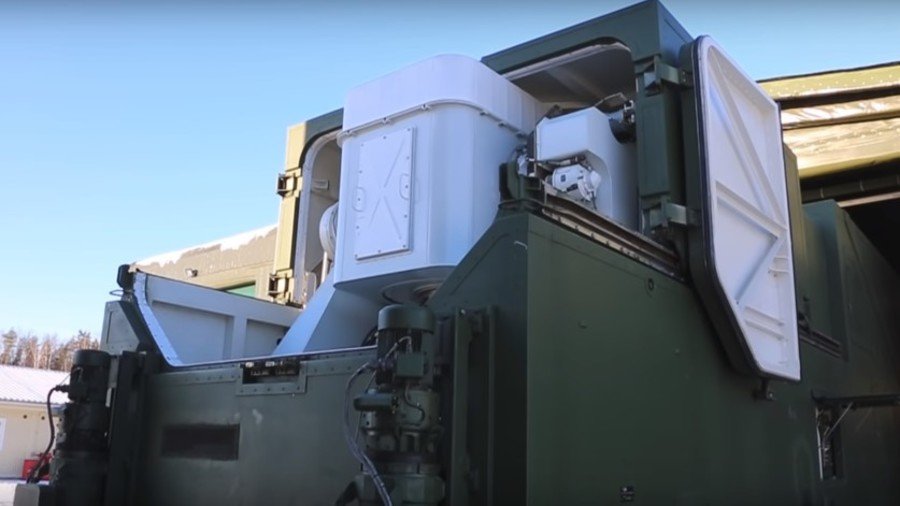 The Russian military have released stunning footage of Peresvet combat laser systems entering test service, shedding a bit more light on the cutting-edge weapon.
A short one-minute video shows the laser system "getting on test duty" outside Teikovo, a town west of Moscow. The system slowly comes out of a hangar and ejects a barrel-shape device, presumably a laser lens.
The camera then quickly films Peresvet's control room and an operator handling the system by remote control.
The Defense Ministry said crews had undergone rigorous training to ensure the sophisticated system is manned properly during deployment.
Although Peresvet was presented to the public by President Vladimir Putin earlier this year, little is verifiably known about the secretive weapon. Experts divided on the exact purpose of the laser, wondering if it is a powerful jamming device or a system able to engage airborne targets.
READ MORE: Meet Poseidon & Peresvet: Russia's MoD site comes under DDoS during final vote on names for new arms
In July this year, the Russian military released another video of the combat laser, featuring at least two truck-mounted systems, accompanied by several command and support vehicles.
During a speech to the Federal Assembly on March 1, Putin revealed a wide range of brand new weapons systems, including the combat laser system. The Russian President asked the public to suggest and vote for the names of those weapon systems.
The state of the art combat laser received its name in honor of Peresvet, a famous warrior monk who fought at the 1380 Battle of Kulikovo which ended the Mongol domination of Medieval Russia.
Think your friends would be interested? Share this story!
You can share this story on social media: