Meet Poseidon & Peresvet: Russia's MoD site comes under DDoS during final vote on names for new arms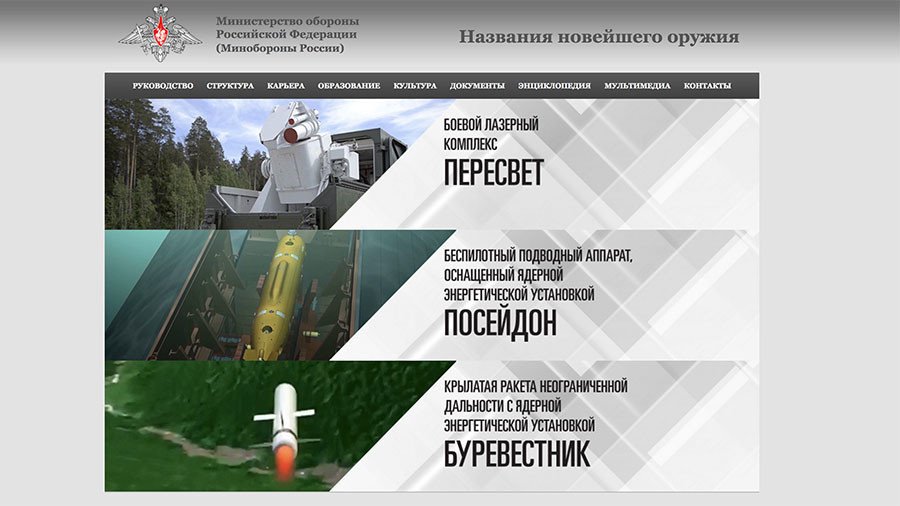 During the final stage of an online vote to select the names of new Russian military hardware, Russia's Defense Ministry website suffered a massive DDoS attack, with all hacking attempts repelled by cyber security services.
"Attempts to attack the website were performed from the territory of Western Europe – the country is established, the North American continent and Ukraine," the Defense Ministry said in a statement.
There was a total of seven attacks during the final day of voting on Thursday, with two of the most intensive of them coming in the closing hours. "The DDoS attacks were neutralized by the cyber security services of the Defense Ministry," the statement read.
During a speech to the Federal Assembly on March 1, President Vladimir Putin revealed a wide range of brand new weapons systems. While the newly developed, nuclear-capable intercontinental ballistic missile was named RS-28 'Sarmat' and the hypersonic missile was dubbed 'Kinzhal' (Dagger), Putin asked the public to suggest and vote for the names of three other brand new weapon systems.
The underwater submarine drone was eventually named 'Poseidon', in honor of the Greek god of the seas, while the state of the art combat laser system received a proud name of 'Peresvet' – a Russian-warrior monk who fought at the Battle of Kulikovo at the end of the 14th century. The nuclear-powered cruise missile was menacingly named 'Burevestnik' (petrel seabird), which can be loosely translated from Russian as 'storm messenger.'
The chosen names faced stiff competition during the polling period. A total of 245,000 names were suggested, from which the military selected the 50 most popular ones and brought them up for a final vote. The fiercest competition unfolded over the name of the nuclear-powered cruise missile. While 'Burevestnik' received nearly 750,000 votes, the names 'Palmyra' and 'Surprize' were breathing down its neck, banking over 700,000 votes.
'Poseidon' won the vote for the nuclear drone submarine, with over 150,000 votes, securing victory over 'Aurora' and 'Surf' that were running strong in the category. 'Peresvet' faced competition from 'Basilisk', a mythical reptile creature of European legends, which has the power to cause death with a single glance.
Think your friends would be interested? Share this story!
You can share this story on social media: