80yo woman dies after being hit in face by projectile amid Yellow Vest protests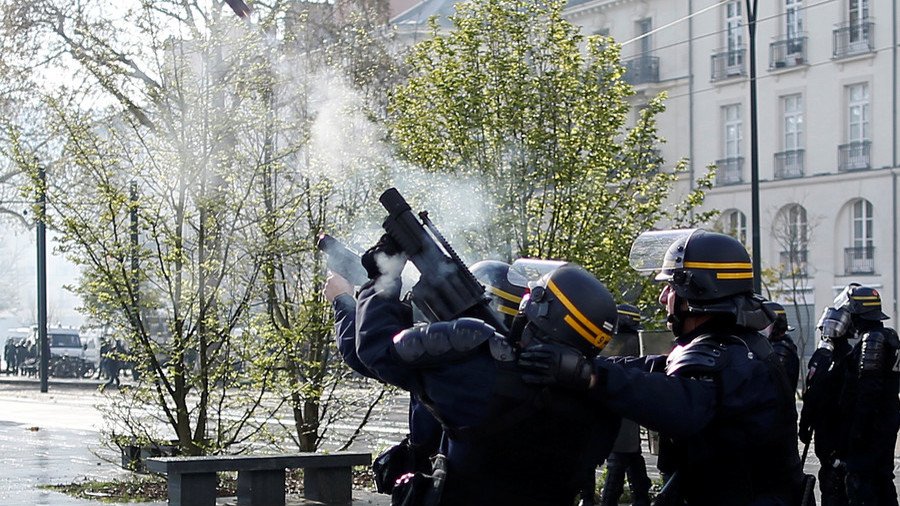 An 80-year-old woman was fatally injured by a projectile, believed to be a tear gas grenade, amid massive rallies in Marseille. She was struck at her home and later succumbed to her injury in hospital.
The woman, of Algerian descent, was in her fourth-floor flat in the southern French city when the riots broke out nearby on Saturday, according to BFMTV. The 80-year-old was hit in the face by a projectile as she closed shutters, to prevent tear gas from pouring into her flat.
She was taken to the Timone hospital, and then to the Conception hospital, to undergo surgery but died of "operational shock," Xavier Tarabeux, the city's public prosecutor, told the media.
Grenade pellets were later found inside the flat, Tarabeux said, adding that a further autopsy is required. "At this point, we cannot establish a causal link between the injury and the death," the prosecutor stated.
Several protest groups, including the Yellow Vests (Gilets Jaunes), were holding demonstrations in that part of Marseille on the day the incident.
The Yellow Vest movement started in mid-November on the heels of public outrage over rising fuel prices. Over the course of several weeks, it involved more people who vented anger at the government's social policy, demanding to end inequality and improve living standards.
The nationwide protests became more tense, leading to violent clashes between demonstrators and police. Three people have died and hundreds more have been injured across France since the unrest began.
In the meantime, President Emmanuel Macron, who repeatedly vowed not to back down on fuel taxes, is under pressure to calm the growing upheaval. However on Monday, he held an urgent security meeting and signaled the government is ready to make some "strong gestures" to protesters.
On Tuesday, French Prime Minister Edouard Philippe announced a six-month suspension of the fuel tax rise, calling the protests "the anger of the France that works hard and struggles to make ends meet." The measure marks a substantial U-turn in the government's handling of the rallies and spells tactical victory for the protest movement.
Think your friends would be interested? Share this story!
You can share this story on social media: