WhatsApp hits Indian TVs with ads to tackle fake news after chat rumors turn deadly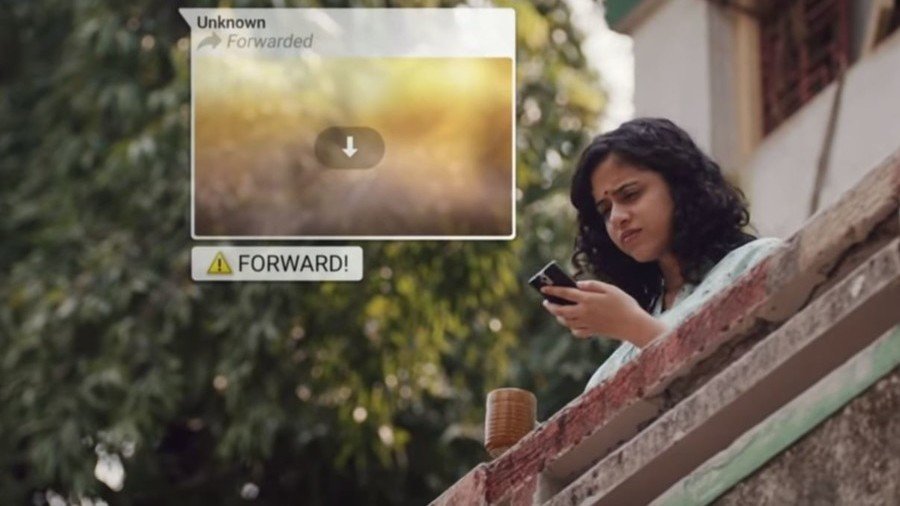 WhatsApp has branched into Indian TV screens as it launched its first-ever film ads to urge users to spread joy and not rumors, after fake news on the chat app incited a spate of mob lynchings.
From Monday, Indians, the world's biggest users of WhatsApp, will be blasted with ads portraying the grave consequences of false information. The 60-second movies based on the experiences of real users will run on TV, in cinemas, as well as on YouTube and Facebook in nine different languages, including English and Hindi.
The protagonists in all three films are ordinary people teaching someone close to them how they can escape becoming propagators of fake news. Tips include leaving group chats where rumors can be spread and blocking any suspicious user.
Also on rt.com
When fake news kills: India's top court and WhatsApp aim to fight mob violence over false rumors
One of the videos tells a story of an Indian woman who is passionate about cooking and loves sharing recipes with her "foodie friends." But one day she receives a message that gets her worried as it comes from an unknown number asking her to "spread a rumor."
She realizes that doing so may be dangerous and instantly blocks the sender. Other videos follow a similar pattern, all ending with a caption: "Share joy, not rumors".
At least 20 people were killed earlier this year in mob attacks incited by false information distributed on WhatsApp, which has 200 million active users in India. The Indian government slapped the Facebook-owned messaging platform with two notices over its failure to curb the spread of fake news this year.
"WhatsApp cares deeply about the safety of users in India and is committed to help addressing the challenge of misinformation in India by empowering users with new controls and working with local partners to step up education on this challenge," a statement from the company said.
The latest campaign has been launched as the Indian government clamps down on social media platforms including WhatsApp, Facebook and Twitter for their spread of untruthful materials ahead of next year's general election.
WhatsApp said it rolled out the campaign just in time for assembly elections in Rajasthan and Telangana, but that it will "build on this effort" to prepare for a potentially-turbulent 2019 poll.
Like this story? Share it with a friend!
You can share this story on social media: