'Friends forever': WATCH Chuck Norris and Hungary PM Orban in bromance over troops and Trump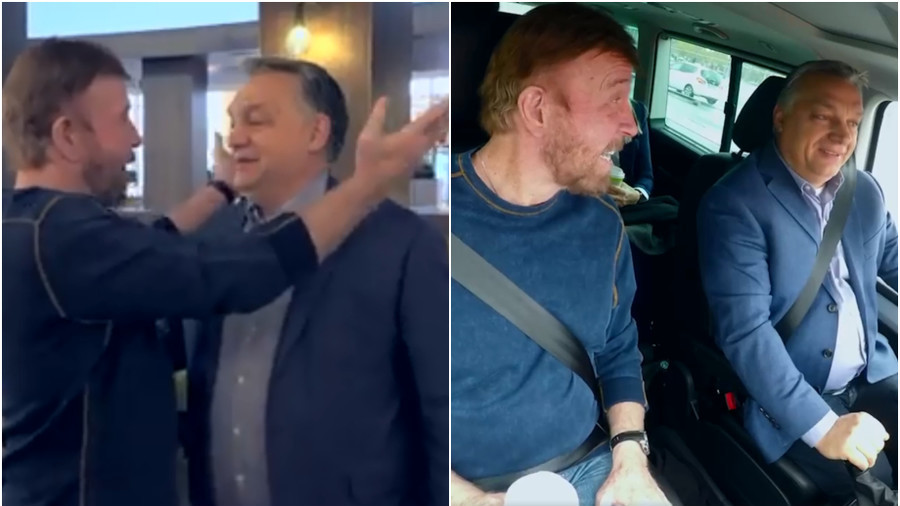 Hungarian Prime Minister Viktor Orban was spotted hanging out with none other than Hollywood actor and walking epitome of badassery, Chuck Norris. They cruised around Budapest as Orban showed off the nation's anti-terrorism unit.
The men bonded almost immediately. Invited to visit the country by charity group Hungarian Baptist Aid, Norris looked fascinated right from the start.
"I've read so much about you that I feel we've already met," the actor was heard saying before clenching Orban in a warm embrace.
But Orban, who has led Hungary since 2010, quickly noted that he is no stranger to infamy.
"90 percent of comment on me is negative," he told a bemused Norris. "The liberals hate me," Orban continued, even "a little bit more" than they hate Trump.
Norris could relate. He himself took a lot of flak in his home country for publicly supporting Donald Trump for the presidency.
Gena and I spent time in Budapest meeting many new friends and honored to spend time with Hungarian prime minister Viktor Orban. Thanks to everyone at Hungarian Baptist Aid for your invitation and hospitality. God bless, Chuck Norris https://t.co/GUxg6TGbHd

— Chuck Norris (@chucknorris) November 29, 2018
The two continued chatting in the car when the prime minister decided to take the actor and his wife, Gena O'Kelley, on a tour around Budapest.
A former US Air Force serviceman and martial artist, Norris rose to fame for portraying rugged, tough-as-nails heroes in action films. In the digital age, he also became a popular meme, symbolizing everything that is over-the-top badass.
Orban, known for his crass and straight-shooter persona, also had stuff to brag about. In fact, he found some similarities with his guest.
"You know, I'm a streetfighter basically. I'm not coming from the elite," he remarked while cruising around the city.
READ MORE: 'You condemn us because we are not a nation of migrants,' Orban tells EU before sanctions vote
Orban has a long track record of spearheading anti-establishment policies, along with a number of ongoing feuds with the EU over migration, but it is not clear whether he and Norris delved deep into politics. Instead, the PM had a chance to show off the nation's leading anti-terrorism squad. Norris was more than impressed.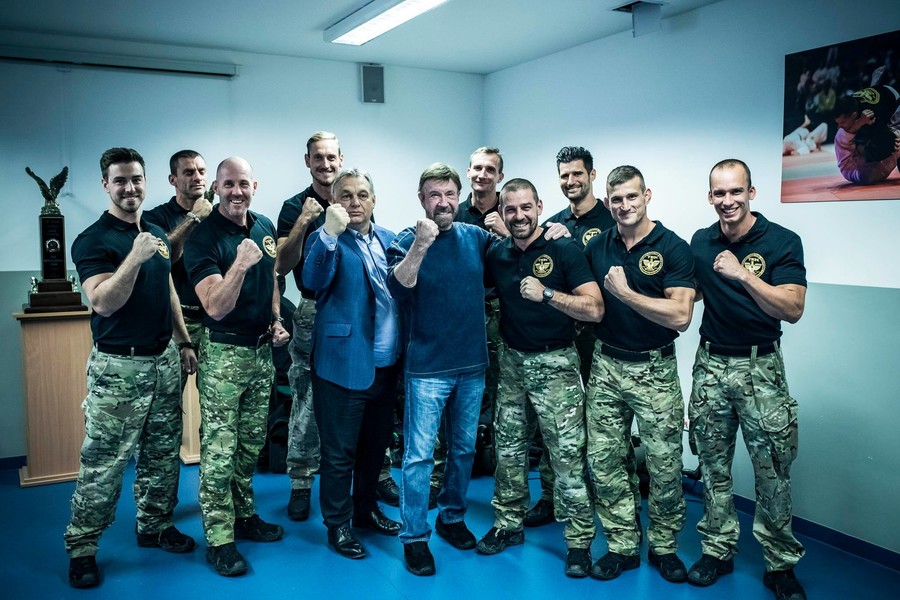 "I have seen training all over the world and this is the best demonstration," the stunned star of 'The Delta Force' and 'Walker, Texas Ranger' said. "The best I've seen!"
They parted on a warm note. "Friends forever," Norris' wife could be heard saying as the men hugged.
Viktor Obran isn't the first high-ranking politician who the actor has befriended overseas. Last year, Norris paid a visit to Israel and hung out with the country's Prime Minister Benjamin Netanyahu.
Think your friends would be interested? Share this story!