Russian bot-in-chief? Twitter blocks 'fake Putin' who lured over 1mn followers in 6 years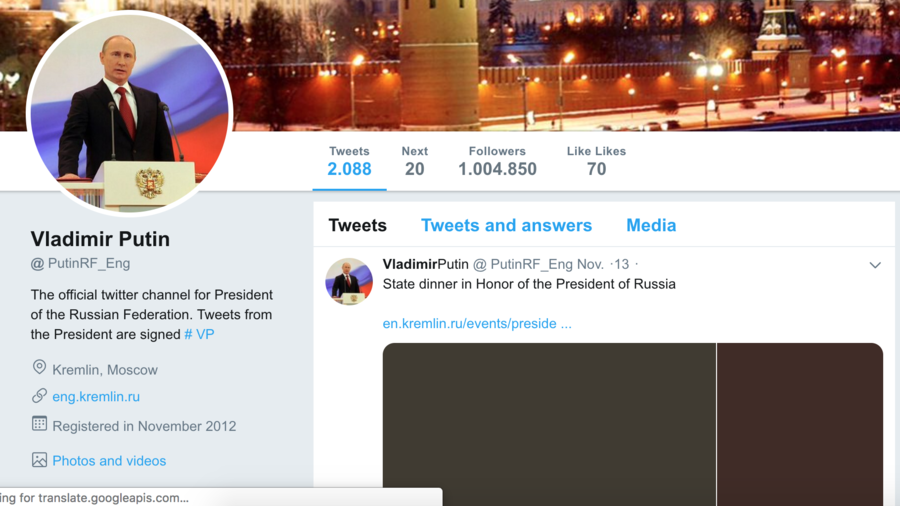 It took Twitter six years to realize that the @putinRF_eng account, with over a million followers, had nothing to do with Russian president Vladimir Putin, who has for long maintained that he has no time to waste on social media.
"We suspended @putinRF_eng for impersonation based on a valid report we received from Russian officials," Twitter announced this week, going on to reassure Reuters that the account had never been affiliated with Putin.
Over long years since its inception, the now-suspended account lured more than a million gullible followers with quite convincing and authentic-looking tweets. Even officials repeatedly used the unverified handle in reference to the Russian president.
In apparent disbelief that in the Trump era it was still possible for a self-respecting politician to live without a personal Twitter account, Business Insider even rolled out a piece earlier this year analyzing those few chosen ones 'followed by Putin.'
Also on rt.com
Putin owns no mobile phone, never answers phone at home
"I don't have a smartphone," the 66yo president said this year, reiterating that he has almost no social media footprint. With most of his communications handled by press secretary Dmitry Peskov, the Russian leader is present on Twitter only through the official @KremlinRussia_E and @KremlinRussia accounts, which, instead of being a conduit for Putin's personal thoughts, cover Kremlin news in general, the old-fashioned way.
Think your friends would be interested? Share this story!
You can share this story on social media: