Turkey's Erdogan calls for 'sea of peace' after Kerch standoff while Kiev beats the drums of war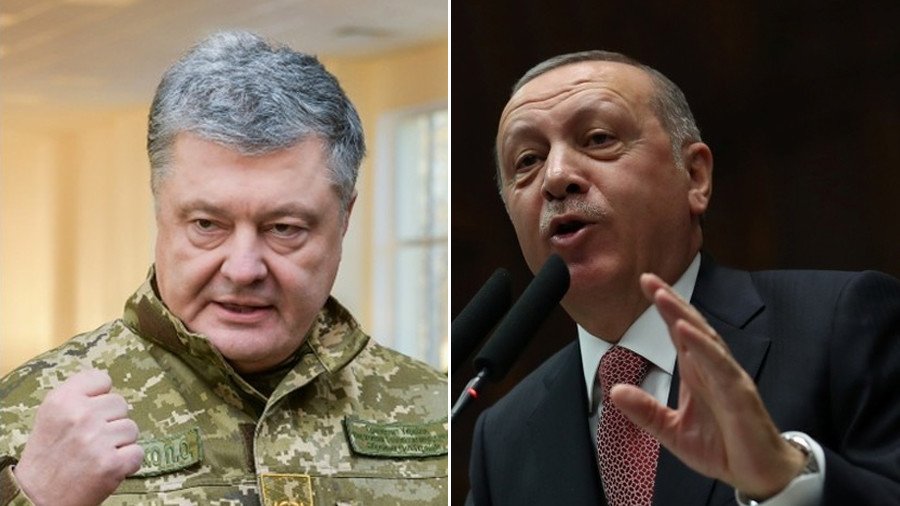 Turkish President Recep Tayyip Erdogan is calling on Russia and Ukraine to engage in dialogue after the recent maritime incident caused a flare-up in tensions. Belligerent Kiev, meanwhile, is bracing for "full-blown war."
Ankara wants to see the nations as "close friends" and "the Black Sea to become a 'sea of peace' as soon as possible," Erdogan said on Wednesday.
Speaking at the ruling Justice and Development Party event, the Turkish leader called on Moscow and Kiev to "resolve their problems through dialogue."
The relations between Russia and Ukraine suffered another blow on Sunday, when a maritime standoff near the Kerch Strait, which connects the Black Sea with the Sea of Azov, ended with Moscow seizing three Ukrainian naval vessels. Russia accused Ukraine of violating its sovereignty after the ships attempted to cross the strait without required clearance.
Three Ukrainian sailors were wounded after a Russian Coastal Guard patrol vessel fired at a Ukrainian gunboat which ignored multiple requests to stop.
A criminal investigation into the violation of Russia's borders has been launched. All 24 Ukrainian servicemen – including two operatives of the Ukrainian Security Service (SBU) – were ordered by local courts to be held in custody for two months while the investigation goes on.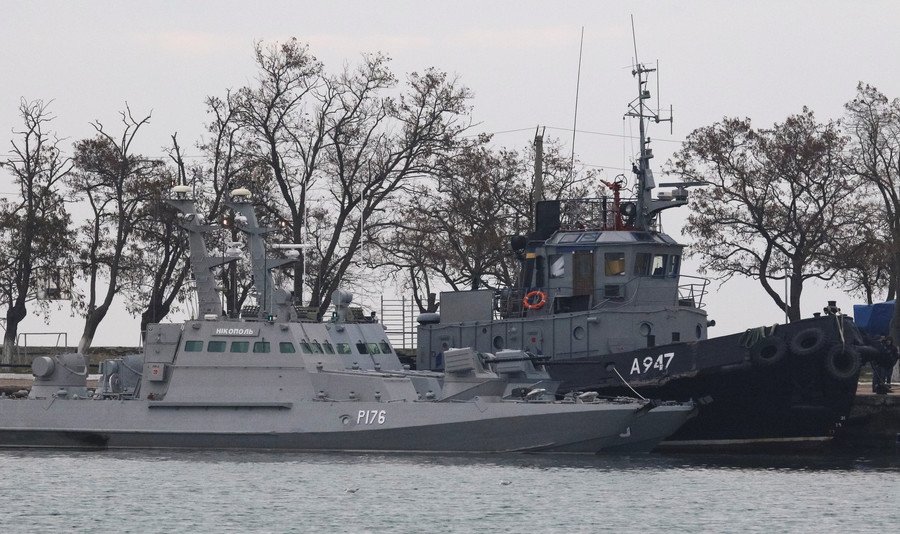 Kiev, in turn, accused Russia of staging a provocation and conducting armed aggression against the neighboring state.
Turkey isn't the only nation that called on both sides to avoid further escalation. China had earlier suggested that the parties should exhibit restraint and aim to "reach consensus by the means of dialogue and consultations."
Similar sentiments were voiced by German Foreign Minister Heiko Maas who urged Russia and Ukraine to show "maximum restraint" in order to avoid the exacerbation of the conflict.
The OSCE also called on all sides to avoid tensions. Ertugrul Apakan, who leads the organization's monitoring mission in Ukraine, and Martin Sajdik, the OSCE envoy to the Trilateral Contact Group on Ukraine, expressed "great concern" over the incident.
"It is time to address differences through political and diplomatic means," the officials stated.
These calls for restraint and dialogue apparently fell on deaf ears in Ukraine however, where politicians opted for more belligerent rhetoric.
"The country is under the threat of a full-blown war," the nation's President Petro Poroshenko told reporters on Wednesday. He said that the incident near the Kerch Strait is "just the beginning," and went on to accuse Russia of military buildup across the border with Ukraine. The president cited "intelligence data" but fell short of providing actual proof of his words.
On Wednesday, Poroshenko signed into law a declaration of martial law in a vast part of the country, after the proposal was voted in by the national parliament.
Earlier, he had put the entire Ukrainian army on high alert.
Martial law covers 10 regions, bordering with Russia in the east and south, as well as the unrecognized Republic of Transnistria in Moldova in the west, where Russian peacekeepers are stationed. The new regime will function for 30 days.
On the first day of martial law, more than 70 Russian nationals were barred from entry into Ukraine. They were all stopped at two airports in Kiev.
Speaking out against warmongering by Kiev, Moscow asked Ukraine's foreign partners and allies to "calm down" the politicians in Ukraine.
Russia is appealing to "the Western backers of Kiev" to influence the officials there "who try to score political points while riding on war hysteria," Foreign Minister Sergey Lavrov stressed.
READ MORE: 'Kiev would get away even with eating babies': Putin says Kerch Strait standoff is a provocation
The minister suggested that belligerent rhetoric may be used by Ukrainian officials to get an upper hand in domestic politics. President Vladimir Putin shared similar thoughts at a business forum in Moscow.
"The authorities in Kiev are selling anti-Russian sentiment with quite a success today. They have nothing else to do," he said.
Like this story? Share it with a friend!
You can share this story on social media: