Trump publicly bashes May AGAIN, says Brexit is only 'great' for EU, will hurt UK-US trade deal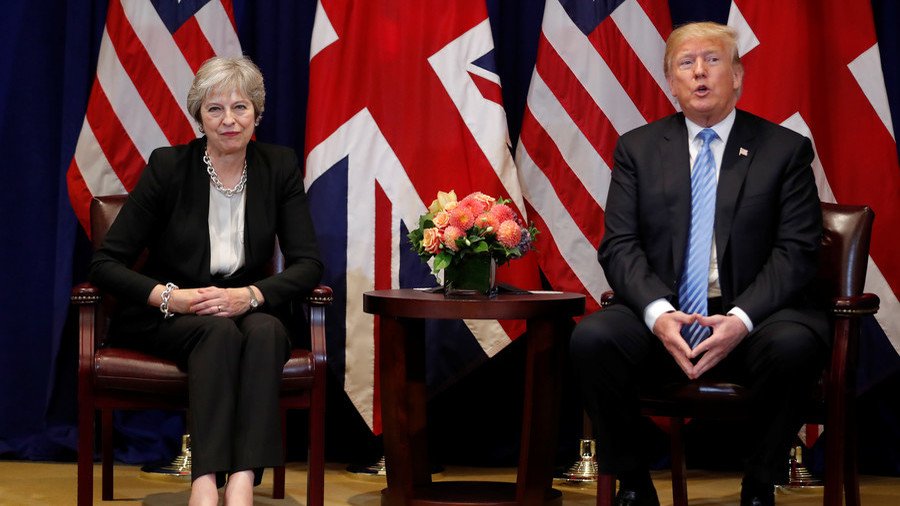 US President Donald Trump criticized UK Prime Minister Theresa May, saying the divorce deal she has negotiated with the EU jeopardizes Britain's ability to seal a trade deal with America.
In his first comment on the Brexit agreement, which May is expected to submit to parliament next month, Trump said it was a "great deal for the EU," but not so much for Britain.
"Right now as the deal stands… they may not be able to trade with the US and I don't think they want that at all, that would be a very big negative for the deal," Trump told journalists on Monday as he departed the White House.
Trump argued that May should restart negotiations with Brussels with a view to securing better terms for Britain. Both the British prime minister and European officials said that this will not happen.
Also on rt.com
Bruised and battered May begs for public's support on reviled Brexit deal
In response to Trump's comments, May told broadcasters on Tuesday that the agreement struck with the EU "clearly identifies" that the UK would have an "independent trade policy" after Brexit, and would be free to strike trade deals "with countries around the rest of the world," including the US.
"As regards the United States," she continued, "we've already been talking to them about the sort of agreement we could have in the future."
May is widely expected to lose the December 11 parliament vote, as the agreement she got from Brussels has been criticized – even by her own party. Her cabinet saw a mass exodus of members over the terms of the document, while Brexit advocates say the country would be better off remaining as part of the EU than taking what May got.
Among other things, the deal provisionally keeps Britain as part of the EU's customs union, which means all its imports will be subject to EU tariffs and standards, while a more comprehensive agreement on trade is negotiated. No specific deadline for such negotiations is set, potentially stalling the process for years to come.
Trump was a supporter of Britain leaving the EU on his campaign trail, and even claimed partial credit for a Leave vote. During his European tour last year, he criticized his British host for not taking his advice on how to better pressure Brussels during negotiations and mused that Boris Johnson, a staunch Brexit advocate and then-foreign secretary, would make a great prime minister of Britain.
READ MORE: Corbyn tells May to 'bring it on,' as PM considers live TV debate on her Brexit deal
As part of his 'America First' policy, Trump is pressing US trade partners to buy more American goods, claiming that the long-term trade deficit is a result of unfair treatment of the US by other nations. He wants to have a bilateral trade agreement with the UK, but such a treaty cannot be signed while Britain lives under EU trade rules.
If you like this story, share it with a friend!
You can share this story on social media: