Russian Consulate territory ON FIRE as protesters pelt it with flares in Kharkov (PHOTOS, VIDEO)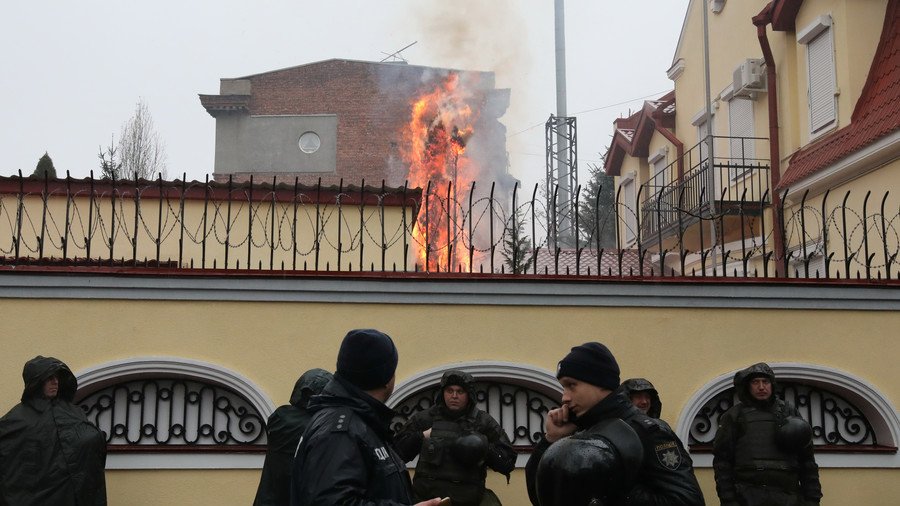 Fire has broken out at the Russian consulate in the northeastern city of Kharkov as anti-Russia protesters threw flares and burned tires in front of the building.
READ MORE: 'Death to Russia': Protesters launch flares & burn car near Russian embassy in Kiev (VIDEO)
Scores descended on the Russian diplomatic facility on Kharkov, Ukraine, on Monday, one day after a tense standoff between the two countries' navy occurred in the Back Sea.
The rally heated up when some masked demonstrators lit flares and started hurling them at the Russian Consulate. One of the burning projectiles eventually landed behind the fence, and a fir tree outside the consulate building caught fire.
A woman was filmed taking the Russian national flag to a crowd of chanting men with flares to set it alight.
The attack on the Russian mission unfolded right in front of a police line. The officers could be seen standing still, failing to intervene as projectiles flew over their heads and hit the building.
The diplomatic facility in Kharkov was not the first to be targeted by protesters. On Sunday, the Russian Embassy in Kiev came under a similar attack with people hurling smoke grenades and burning tires. Another group of anti-Russia protesters, including right-wing activists, brought tires to the Russian Consulate in the western city of Lvov on Sunday night.
READ MORE: Ukrainian President Poroshenko signs decree on martial law
The rallies came shortly after Russian and Ukrainian vessels clashed in the Black Sea as the latter crossed into the Russian territorial waters without authorization.
The Ukrainian vessels were sailing between two Ukrainian ports, from Odessa in the Black Sea to Mariupol in the Azov Sea, and needed to go through the only waterway that connects these waters, the Kerch Strait, located between Crimea and mainland Russia. Kiev says it notified Moscow in advance that its navy ships would be sailing through the area. Moscow denies that it was given any warning.
Subscribe to RT newsletter to get stories the mainstream media won't tell you.
You can share this story on social media: