'Death to Russia': Protesters launch flares & burn car near Russian embassy in Kiev (VIDEO)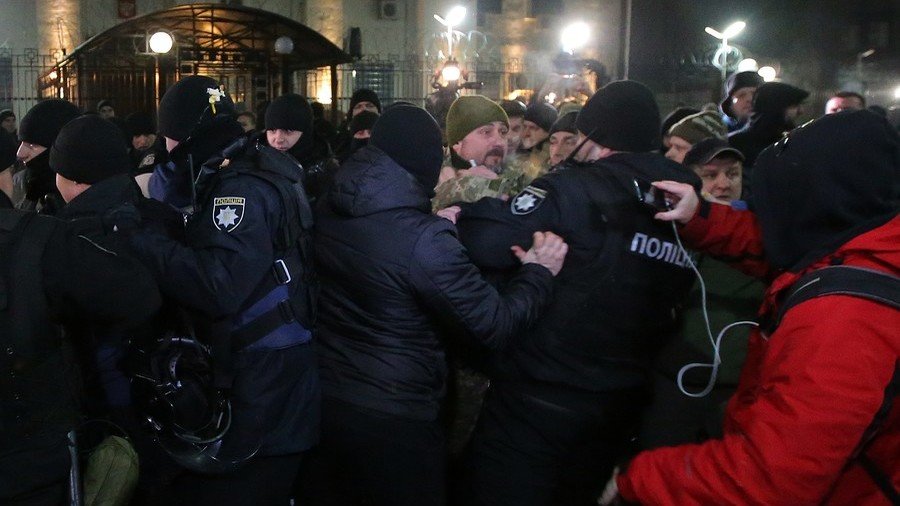 Anti-Russian protesters have hurled flares, smoke grenades and burning tires at the Russian embassy in Kiev after the two countries' vessels faced off near the Crimean peninsula.
Scuffles broke out between riot police and protesters as they gathered outside the Russian diplomatic mission in the Ukrainian capital on Sunday. The building was soon covered in smoke as security forces tried to quell the crowd.
At one point, the angry crowd began chanting "Death to Russia!"
Videos circulating online captured a blazing car with diplomatic license plates parked not far from the Russian facility. The hood of the vehicle burned for some time in front of an apartment block before emergency services arrived.
Some protesters brought tires and set them ablaze near the building. People also left paper ships at the embassy fence in an apparent reference to the vessels' face off near the Kerch Strait.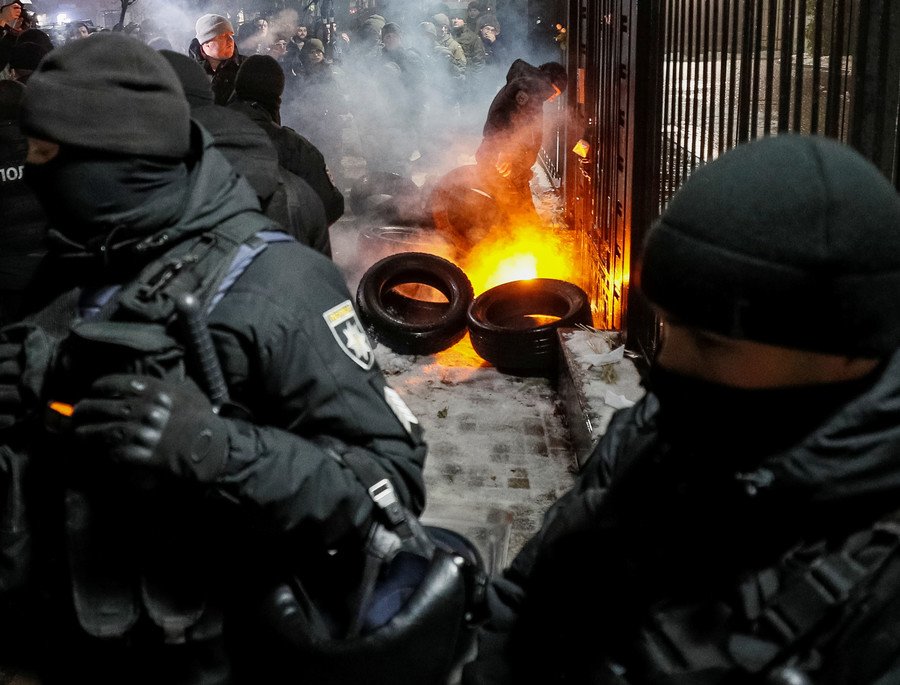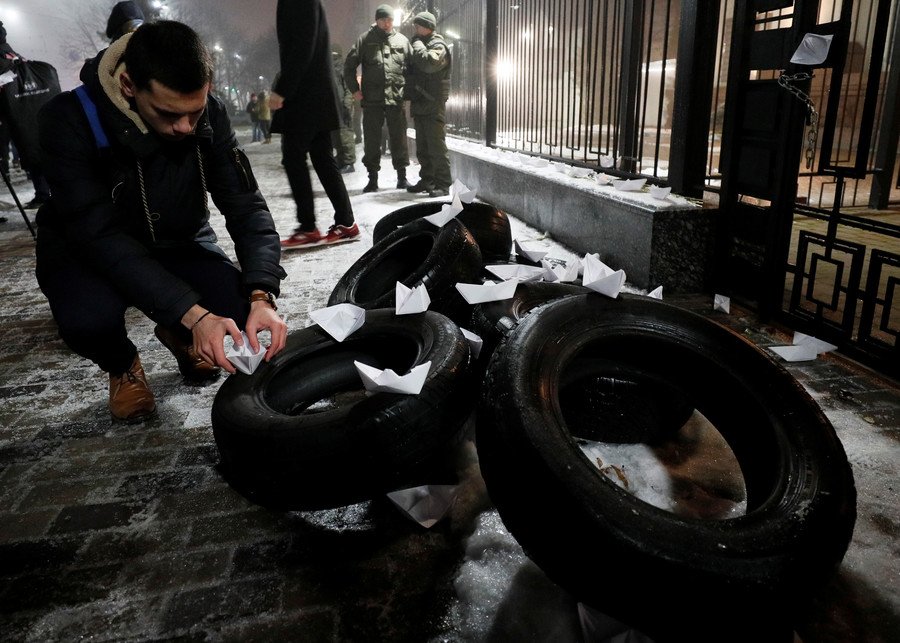 Another rally occurred near the Russian consulate in Lvov, western Ukraine. An angry crowd, including right-wing activists from the National Corps, descended on the building and burned tires during Sunday night into Monday morning. The participants said they were decrying what they called Russian "aggression" against the Ukrainian Navy.
Later on Monday, Russian Foreign Minister Sergey Lavrov slammed the rally in Kiev and accused police of failing to stop the "mayhem" in front of the Russian diplomatic facility, RIA Novosti reported.

"It's radical nationalists and neo-Nazis who now call the tune in Ukraine, which has only been confirmed by yesterday's disgusting action at the Russian Embassy in Kiev," the top Russian diplomat said.
The Ukranian vessels were sailing between two Ukrainian ports: from Odessa in the Black Sea to Mariupol in the Azov Sea. The only waterway that connects these is the Kerch Strait between Crimea and mainland Russia. Kiev says it notified Moscow in advance that its navy ships would be sailing through the area.
Moscow denies that it was given any warning, forcing the Russian military to use weapons to stop the vessels. The three Ukrainian ships were then seized and towed to the Kerch port, according to the Russian Security Service (FSB).
While both Russia and Ukraine have freedom of navigation in the Kerch Strait under a 2003 treaty, there are detailed technical rules on how vessels should pass through the narrow, complex waterway. All traffic in the area is controlled by the Crimean sea port of Kerch, and every ship should contact the facility, report her route and destination, and receive permission to sail through the Strait.
As tensions escalated around the situation in the Kerch Strait, Russia called an emergency UN Security Council meeting, while Ukrainian President wants to declare martial law, pending approval by national parliament.
Think your friends would be interested? Share this story!
You can share this story on social media: