Stunning 'erotic' fresco unearthed in Pompeii bedroom (PHOTOS)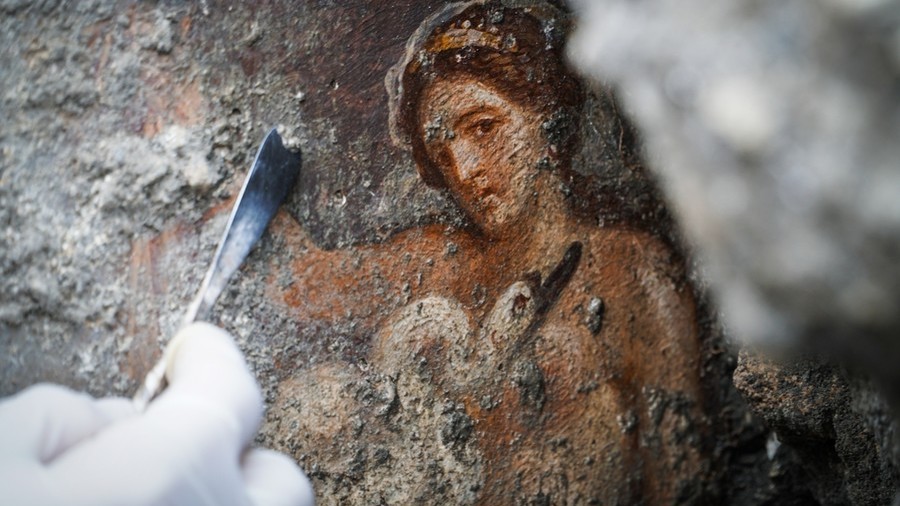 A "sensual" depiction of a legendary Spartan queen having sex with a swan has been unearthed in the ruins of the ancient Roman city of Pompeii. Further evidence, not that it was needed, that people just love erotic pictures.
The newly discovered fresco, which captures a scene from classical mythology, was found in a bedroom in the town that was destroyed when Mount Vesuvius erupted in 79 AD.
READ MORE: New Pompeii remains reveal final moments of people trying to escape horrifying volcano
It depicts the figure of Leda being impregnated by the Roman god Jupiter, who has taken the form of a swan. The incredibly detailed artwork shows Leda protecting the swan with her cloak as he sits on her lap.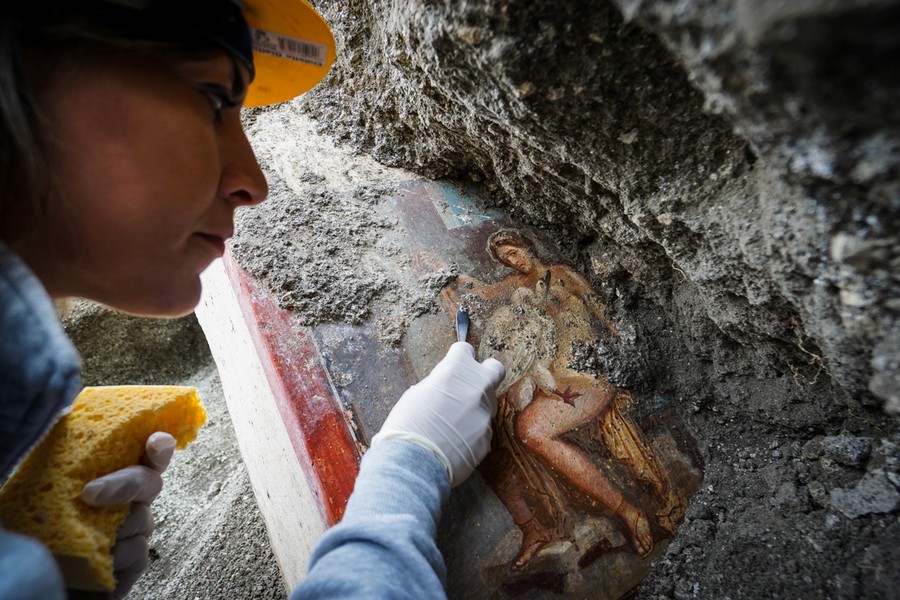 Archaeologists uncovered the, incredibly vivid, fresco on Friday during works to bolster Pompeii's structures after rains and wear-and-tear caused some ruins to collapse, the body that oversees the ancient site said.
Depictions of Leda and Jupiter were not uncommon in Pompeii but the archaeological park's director Massimo Osanna praised the discovery as exceptional because the skilled artist had painted it to make it appear that Leda was looking at whoever entered the bedroom.
READ MORE: Exploding heads & boiling blood: Vesuvius eruption deaths far grislier than previously believed
"Leda watches the spectator with a sensuality that's absolutely pronounced," Osanna told Italian news agency ANSA.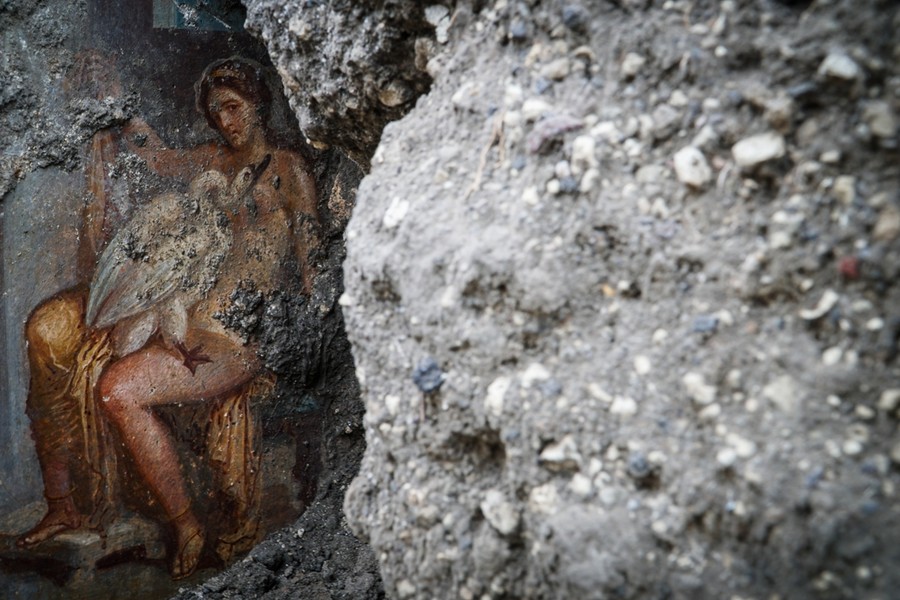 He noted the fresco's context in the Greek "myth of love, with an explicit sensuality in a bedroom where, obviously beside sleep, there could be other activities."
The painting was found in an opulent house where another splendid fresco was discovered earlier this year. Osanna said one theory is that the owner was a rich merchant who wanted to display his good taste by filling his house with myth-inspired art.
Leda is an important figure in classical mythology. She was said to have borne children fathered by the god Zeus, the Greek version of Jupiter, and by a mortal king of Sparta. She is the mother of Helen of Troy and the twins Castor and Pollux.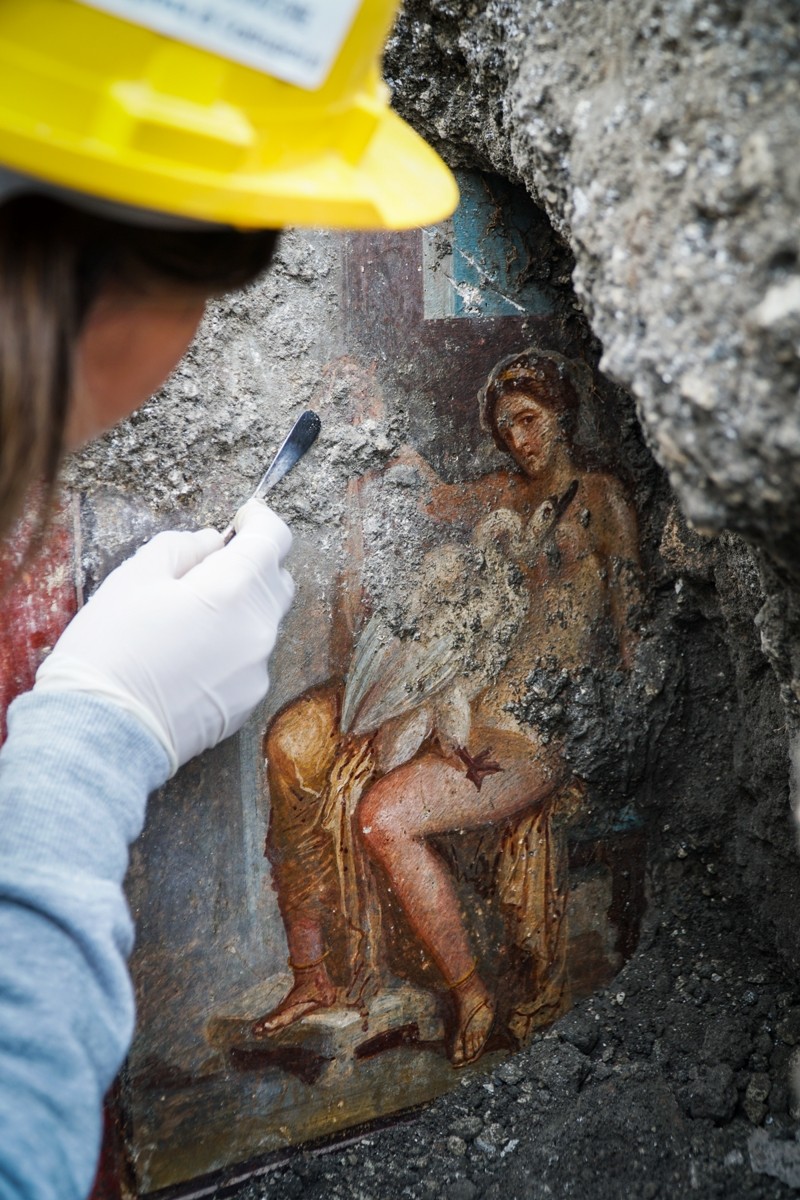 Centuries after the destruction of Pompeii the story of the swan's seduction of Leda became a favoured subject in Renaissance Italy and inspired works by Michelangelo and Leonardo da Vinci.
The fresco is the latest in a series of impressive recent finds in Pompeii. Last month graffitti was discovered that shifted the timeline of the catastrophic eruption by several months while the separate discovery of six skeletons huddled together shed further light on how people reacted as Vesuvius laid waste to their world.
READ MORE: Ancient graffiti shows we've been wrong about Pompeii doomsday date all along
Like this story? Share it with a friend!
You can share this story on social media: