Russia won't be dragged into new arms race, but will respond to US withdrawal from INF – Putin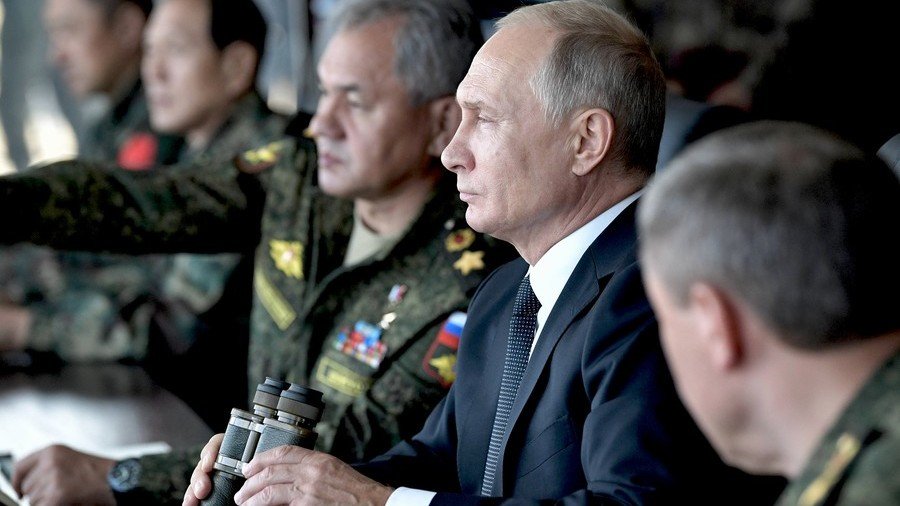 Moscow will not leave Washington's decision to unilaterally withdraw from the landmark nuclear arms treaty unanswered, Russian President Vladimir Putin said, adding that the country doesn't need to join another arms race.
Russia is still ready to continue dialog with the US on the bilateral treaty banning medium-range missiles, which has become one of the cornerstones of nuclear disarmament, the Russian leader said at a government meeting in Sochi. Still, the US should "treat this issue with full responsibility," the president said, adding that Washington's decision to withdraw from the agreement "cannot and will not be left unanswered."
These are not empty threats, Putin warned. He said that Russia had previously cautioned the US against leaving the ABM treaty regulating missile systems and warned Washington about potential retaliation. "Now, we have hypersonic weapons capable of penetrating any missile defense," Putin said, referring to Russia's newest state-of-the-art weapons.
The president also called on the government and military officials to develop "concrete steps" Russia can take in response to the US withdrawal from the INF Treaty.
Moscow will not allow anyone to drag itself into another armed race, the Russian leader said. Instead, Russia plans to focus on "balanced development" of its Army, Navy and Air Force. The troops are expected to adopt new military training techniques, using the combat experience they received in Syria. Russia will also continue to modernize its military hardware.
Putin said he hopes that the "common sense" will prevail and the US will continue a dialog with Russia in the fields of strategic stability and collective security on the basis of "mutual responsibility."
The 30-year-old arms agreement banned possession and development of short and mid-range missiles. The US has been claiming that Russia has been violating the INF deal by building missiles it prohibits. Moscow has refuted the allegations and accused the US of non-compliance as well, arguing that it can re-purpose the missile defense complexes stationed in Eastern Europe and use them as offensive intermediate-range launchers.
In October, US National Security Advisor John Bolton reaffirmed US President Donald Trump's intent to pull out from the INF treaty during his visit to Moscow. Apart from Russia's alleged non-compliance with the treaty, he also named the ongoing Chinese militarization as a pretext.
If you like this story, share it with a friend!
You can share this story on social media: