What the fox? Russian woman rides Moscow metro with unusual furry companion (VIDEO)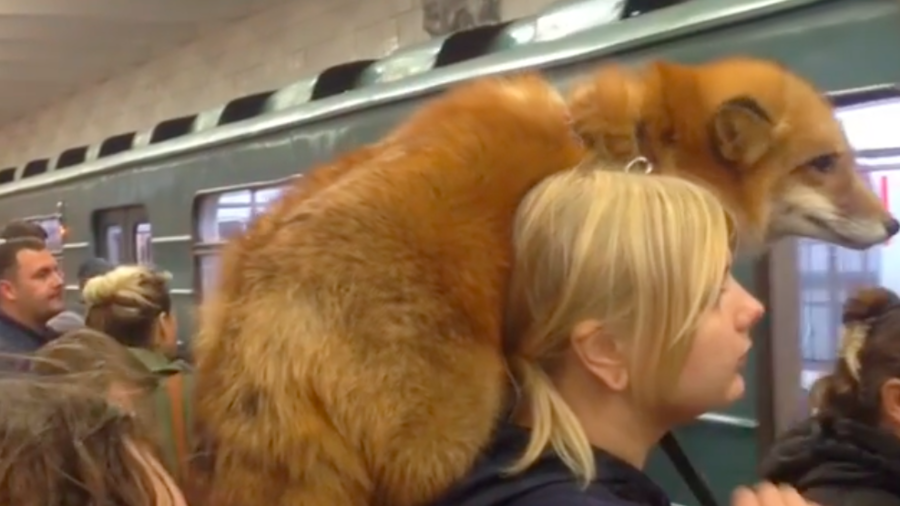 A Russian woman with a pet fox nonchalantly perched on her shoulder raised more than a few eyebrows on a recent Moscow metro ride. Both her fellow commuters and social media users were fascinated by the strange sight.
Video footage of the bizarre occurrence shows a woman calmly waiting for a train with a very large pet fox perched on her shoulders.
Commuters on the busy platform are seen giving the fox strange looks as they wait for the train. Once it arrives, the woman and her fox stroll onto the busy carriage as more people give sideways glances.
The video appears to have been first shared on Instagram by Valerasupertrener on Wednesday. It has since spread across social media and has been watched hundreds of thousands of times.
Social media users expressed their surprise at the bizarre sight, with some pointing out that the pet fox was better than wearing a fur coat and others joking, "when you want a fur coat but you love animals."
Some worried about rabies and said the animal should have been wearing a muzzle. The fox appeared to be wearing a leash that its owner was holding on to as they waited for the metro.
Although seeing a fox perched on a commuter's shoulders is pretty bizarre, it's not quite as unusual in Russia, which is home to a population of domesticated red foxes.
In the 1950s geneticist Dmitry K. Belyaev started a breeding program to domesticate the animals and a population still exists today.

Like this story? Share it with a friend!
You can share this story on social media: