Too little, too late? Merkel comes to Chemnitz to ease ethnic tensions, but faces mass protest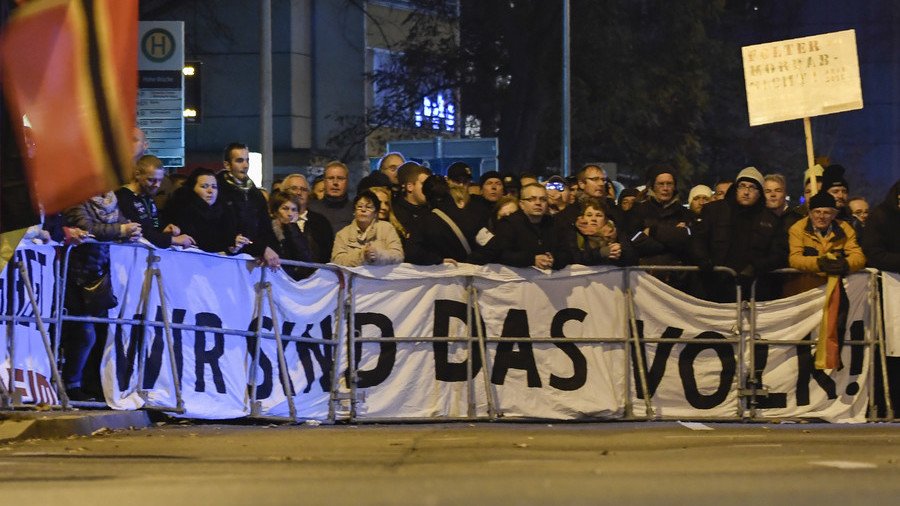 German Chancellor Angela Merkel finally visited the eastern German city of Chemnitz, more than two months after massive right-wing protests there. However, twenty times as many people came to protest against her than to see her.
In late August, the city of Chemnitz witnessed a surge of anti-immigrant sentiment after the fatal stabbing of a German man, allegedly by a group of migrants. The incident provoked a wave of right-wing rallies and far-right marches, as well as counter-protests, some of which escalated into skirmishes between riot police and protesters, resulting in multiple arrests and injuries.
Now, more than two months after the scandal, Merkel finally turned her attention to the beleaguered city in what even the local mayor, Barbara Ludwig, called a belated gesture. The chancellor met with a youth basketball team, talked to Ludwig and the head of the region of Saxony, where Chemnitz is located. In an apparent attempt to heal the rift between the government and the people, she also engaged in what she called a "civil dialogue" with some 120 readers of a local newspaper.
The chancellor's visit predictably brought no surprises as she kept defending her immigration policies, admitting, however, that they provoked some "dissatisfaction" among Germans. She described the Chemnitz murder as a "horrifying crime" but said that no crimes justify other crimes, referring to the far-right violence and xenophobic attacks.
"What concerns me is the fact that, as a result of these developments [in Chemnitz], many people have lost the feeling of security," she told the audience, adding that restoring this feeling is a responsibility which "a state governed by the rule of law" should bear. However, she then immediately said that the feeling of insecurity is mostly "subjective" and is not supported by statistics and police data.
Claiming that her government made just one mistake in its immigration policy, she explained it "was made not when the refugees were coming" in Germany, but rather when it failed to care enough about the people fleeing wars in Syria and Iraq for refugee camps in Jordan and Turkey, before the refugee crisis actually reached Europe.
The chancellor seemed to be pretty happy with the results of her visit and the "in-depth" conversations she described as well worth including in her tight schedule. She also promised "more support" for Chemnitz in the form of "certain congresses and meetings [that] will take place [there] in the future."
However, whether she indeed managed to strike a chord with the locals remains unclear, as twenty times more people than the number that went to greet her opted instead to attend a protest against her visit.

Some 2,500 people took to the streets of Chemnitz on Friday to express their discontent with the chancellor's policies. The protest was organized by the anti-immigration Pegida movement as well as a local far-right Pro-Chemnitz group, according to German media. A group of protesters also designated themselves a 'Merkeljugend' in an apparent reference to a Third Reich Nazi youth movement called 'Hitlerjugend'.
The protesters chanted "Merkel must go" and "Nation's traitor" while holding banners and placards that read "we are the people." The group that branded themselves 'Merkeljugend' also held flags and banners with the EU symbols styled on Nazi symbols and had T-shirts with 'Geil Merkel' slogan – another reference to the Nazi slogan 'Heil Hitler.'
Die Rechten wollen Merkel lächerlich machen, in dem sie sie mit Hitler gleichsetzen. Müssten die Rechten nicht gerade dann glücklich sein?Also ich komme da nicht mehr mit, mit deren ihren verschrobenen Weltbild #Chemnitz#c1611pic.twitter.com/Gx7fHYjJKI

— Christian (@Ghostdogcs) November 16, 2018
The protesters argued that Germany has turned into a sort of dictatorship under Merkel, while comparing her government's polices with those of Communist East Germany's secret police – the Stasi. Merkel herself also appeared to be not ready for dialogue with those, whom she branded as far-right populists.
"We should not let our agenda be defined by those who spread fear and hate," she told her audience in Chemnitz, adding that she "will not go to those, who do not want to talk."
Think your friends would be interested? Share this story!
You can share this story on social media: