Trio who 'lied' about campaign for homeless that raised $400k face 10 years in jail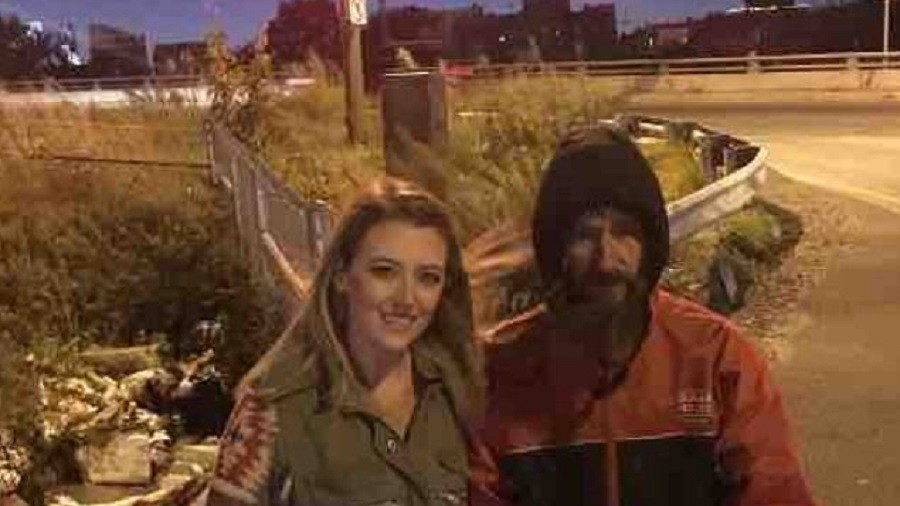 A tale of a couple starting a crowdfund to help a homeless guy became an international sensation and raked in $400k from thousands of good-hearted donors. But its protagonists have now been charged amid claims it was all a "lie."
Kate McClure, 28, and Mark D'Amico, 39, from New Jersey, US, had started a campaign purportedly aimed at raising money for homeless ex-marine Johnny Bobbitt, 34. In a bid to persuade people to donate, they offered a story about how Bobbitt had given up his last $20 dollars to help a woman refuel when her car broke down in 2017.
But text messages, seen by investigators, reveal that far from wanting to carry out a gratuitous act of goodwill, the couple allegedly conspired with the homeless man about a month ahead of the campaign launch as they were apparently struggling with their finances.
Investigators believe the trio met near the Sugarhouse Casino in Philadelphia, close to the I-95 off-ramp where Bobbitt was living.
That was the same location where McClure claimed Bobbitt had rushed to her rescue when her car stopped as she drove to a friend's home in September last year.
"The entire campaign was predicated on a lie," Burlington County Prosecutor Scott Coffin said.
"Less than an hour after the GoFundMe campaign went live, McClure, in a text exchange with a friend, stated that the story about Bobbitt assisting her was fake."
They started off the campaign with a modest goal of raising $10,000. But the human story struck so hard that it prompted 14,000 people to put their hands in their pockets and donate to the supposedly good cause, rounding up a total of $400,000.
Almost all the money has been spent as the couple reportedly squandered it on casinos, luxury bags, a New Year's trip to Las Vegas and a BMW.
But they seem to have shot themselves in their feet as they allegedly failed to give Bobbitt his fair share, which led to the disgruntled rough sleeper filing a suit against them, ultimately leading to the investigation into their actions.
The trio were all charged with second-degree theft by deception and conspiracy to commit theft by deception. If convicted, each of them could face up to ten years in jail.
The crowdsourcing site has confirmed all 14,000 donors to the page will get their share of the $400,000 back in full.
News of the alleged scam stirred widespread condemnation on social media, with some users wishing for them to be sent straight to the "hell department".
Hello, special place in hell department? Can I book a table for 3?

— dbergheger (@dbergheger) November 16, 2018
Smh stories like this is why people are hesitant to donate

— derya yavuzyiğit (@derayavuzyigit) November 16, 2018
If you like this story, share it with a friend!